This post contains affiliate links. As an Amazon Associate, we earn from qualifying purchases.
It seems that shoe manufacturers only care about the length of the shoes they produce. Only a few of them seem to pay attention to the width of the shoes they create. This leaves people with wide feet to have limited options on the shoes they can wear. In search of the best shoes for wide feet? You have come to the right page. You don't have to search on other sites as we have compiled the most relevant info right here.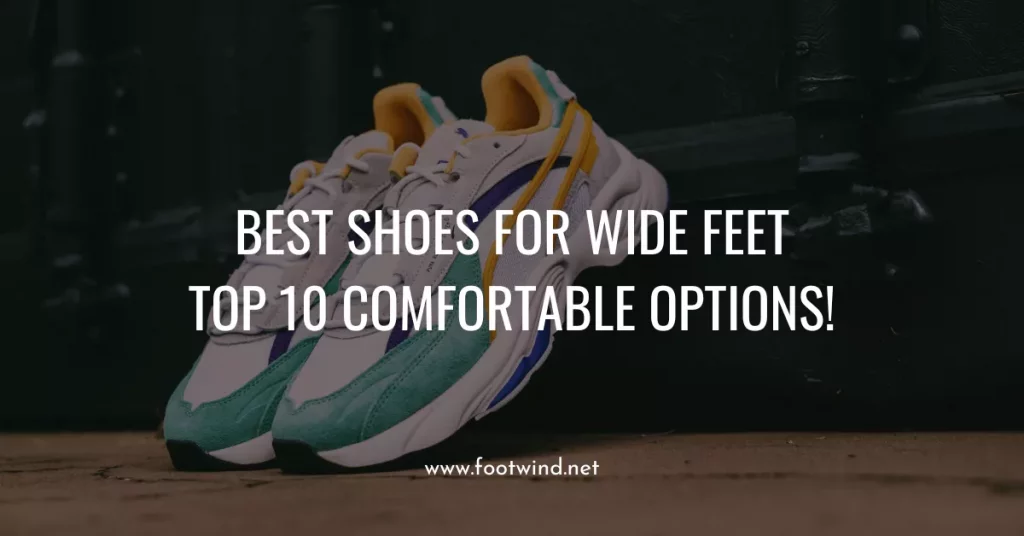 Top Shoes For Wide Feet
Who Needs Wide Shoes?
For obvious reasons, people with wide feet also need wide shoes. If you are a person with wide feet and you try to fit into narrow shoes, chances are you'll get uncomfortable in the long run and expect some common foot pain problems.
Aside from people with wide feet, people with really high arches and bunions also need wide shoes to support their feet. Though not as common as narrow shoes, there are still an ample amount of wide shoes across different brands that you can try. However, it only applies to people who know where to find them. Lucky for you, this article features some ideal shoes for wide feet. This filters down lots of other unnecessary options so you can try the best shoes.
Narrow Shoe Problem
Before going through, know first some narrow shoe problems. People only seem to notice the "pain" but don't really know what's happening to their feet, or how it happens.
Apart from giving you annoying discomfort, constant wearing of narrow shoes eventually ends in permanent foot damage.
Bone Weakening
When your wide feet try to fit in narrow shoes, a decrease in pressure is spread over the bottom of each foot due to the squeezing at the front part of your foot. As a result, the feet deform, and a further consequence includes bone weakening.
Your feet are like your foundation that keeps you still and upright. Imagine damaging it. Only then will you realize the essence of being able to stand.
Lower Back Problem
Everything in our body is connected. So if one aspect of our physicality is affected, other parts of our body are also put in jeopardy. A squeezed foot, for instance, can result in lower back problems.
The explanation is quite simple; you shift the center of gravity of your body when you don't fully land on your foot. Your feet supposedly receive the impact of landing, but a squeezed foot means the impact is transferred to the other parts of your body – in this case, your lower back.
Your lower back serves as compensation for the inward twist of your feet. In the long run, the pain starts to emerge in the lower portions of your back as the backbone structure changes.
Bad For Diabetes
People with diabetes are not suggested to wear narrow-width shoes. More illnesses that make narrow shoes not ideal to wear are bunions, foot swelling, Morton's neuroma, hammertoes, and deformed toes.
Width Chart
One downside, however, of your search for the right shoes, is there are no standards for wide feet. Every brand has their own basis for width sizes. This table is from Amazon. Though this only applies to the shoes sold on the said online shopping site, there is no guarantee all shoes and brands adhere to the same chart.
| | | | | | |
| --- | --- | --- | --- | --- | --- |
| X-Narrow | Narrow | Medium | Wide | X-wide | XX-Wide |
| 2A | B | D | 2E | 3E, 4E | 6E |
When you shop for your desired pair, or when you have chosen from one of the products we feature in this article, you will also need to pick up your width aside from your conventional shoe size. As you can see in the chart above, this is typically marked with the symbol "2A" to "6E."
Choosing The Best Shoes For Wide Feet
There's no greater comfort than having the "Cinderella fit" for a pair of shoes. For a person with wide feet like you, it is clearly ideal to have shoes that are also wide. So here are some of the best options in the market today.
1. New balance 1540v2 extra wide shoe (available for men and women)
The New Balance 1540v2 is the second version of the series, and it's much better than the previous one! These shoes are ideal for any activity that may involve your feet – standing for long hours, walking, or running.
Medial and lateral rearfoot stability is ensured by the symmetrical ROLLBAR technology the shoe features. Having wide feet is no longer a problem as this model is available up to 6E which is the widest possible shoe in the market.
Structure and stability are further improved by the synthetic complement while the lightweight upper portion is constructed with mesh that provides maximum breathability, making these shoe ideal for walks and jogging sessions. Furthermore, the mesh is also present on the side. The mesh sides provide more support if you have bunions; it helps in alleviating the pain.
Not everybody may be a fan of lacing closure, but this traditional touch gives you a precise fit. You'll also feel the great difference with the dual-density collar foam.
The sole of this model also excels in the competition as it can improve motion control and could also give a more stable base.
2. Clarks best dress shoes for wide feet (available for men and women)
If you're looking for another classic-looking shoe that could house your wide feet well, the Clarks Best Dress Shoes is yet another remarkable choice you can consider.
This model features Ortholite footbed that provides admirable comfort and support for your feet. Clarks' primary edge is the title of comfort. You'll also love the classical design the shoes possess. The black or brown color would complement any formal attire. Despite looking so formal and almost corporate, these shoes are still ideal for long walks.
Though not obvious enough, the leather is actually designed to be breathable, enhancing the ventilation experienced by your feet and toes.
3. Vionic with orthaheel technology wide walking shoes (both available for men and women)
Anticipate this pair if you're looking for sufficient feet protection and at the same time, desirable feet accommodation. The secret behind having both benefits in a single pair is in the design.
This Vionic with Orthaheel Technology is a high-quality shoe with excellent orthopedic supportive technology, as the name suggests.
The model comes in varieties flexible for both men and women, so you can also get a pair for your loved one for a stylish couple of shoes. There are three colors available which you can choose according to your preference – white/blue, gray/orange, and black.
The edge of this Vionic is its biomechanical orthotic insole designed by professional Podiatrists. With this, you can ensure extra support apart from the already comfortable build of the shoe itself.
4. Rockport world tour (available for men and women)
If you're looking for professional-looking shoes rather than those sporty ones, then the Rockport World Tour might be an ideal choice. It comes with an attractive style made with a professional in mind. The model also comes in multiple colors which you can choose from – brown, black, tan, chocolate Nubuck, and chocolate.
Contrary to how it looks, the Rockport World Tour shoes are flexible; give you enough stability without sacrificing comfort while you are walking, even for long hours. The shoes' flexibility owes it to the Strobel technology, exclusive to this model.
Your feet will also appreciate the breathable mesh lining and the Latex foam footbed that gives them the leisure and comfort they deserve.
At first glance, it looks too formal and manly, but this model is actually available for both men and women.
5. Dr. comfort extra depth wide width shoe (available for men and women)
From the name itself, Dr. Comfort Douglas and Annie-X both have the superb orthopedic designs as orthopedics experts design the model themselves. Aside from being wide shoes, these models are also stretchable so it can adapt to the shape and size of your foot, just in case you need a little more room.
The shoes can also provide both protection and accommodation simultaneously as they are meticulously engineered to serve the most sensitive foot of all – a foot with diabetes. So if you are a diabetic person, you might want to consider these shoes.
The Dr. Comforts are designed with soft buttery leather which is quite comfortable. The shoes also feature the famous Gel Insoles that provide more support aside from the support already given by the shoes as a whole.
Lastly, having one of these Dr. Comforts means you have excellent therapeutic shoes that could accommodate large feet. However, unlike the New Balance 1540v2, it can only accommodate widths up to 4E.
Conclusion
So here's our initial list of the best shoes for wide feet. We'll be posting updates and featuring more products in the future. In the meantime, you can choose a pair of our featured shoes and see the comforting magic that wide shoes could offer.