In ancient times, people went walking, running, and hunting with bare feet.
Men soon learned to protect their feet with leaves and grasses. Later, wooden sandals were developed and, over time, leather shoes.
Nowadays, shoes are often associated with professions. A farmer wears boots, a businessperson favors leather shoes and an athlete needs running shoes…
But how would you choose the best type of shoes for your profession if you're a nurse? How would you choose the best nursing shoes?
We will show you how to do exactly that.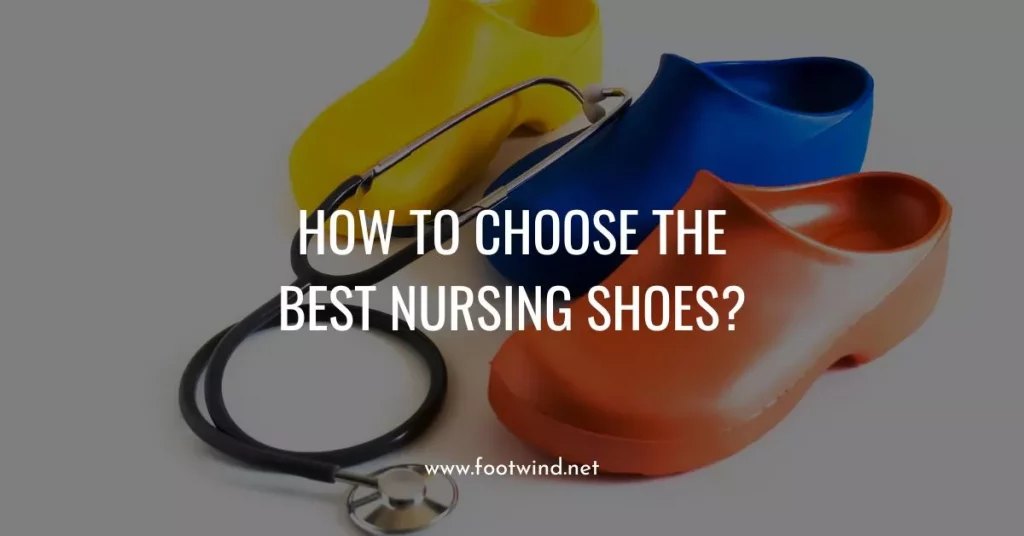 First of all, what is a nursing shoe?
Nursing shoes are generally white and pretty easy to recognize. Nursing shoes are not just a regular plain white colored shoe, thought, but can also come in a wide variety of pattern of designs.
Why do nurses use nursing shoes anyway?
Every profession has its own requirements. Certain clothes, bags, materials, shoes, and insoles are linked in our minds to give jobs. But how is a certain shoe suitable for a profession? And why do nurses use nursing shoes? Find out here.
A nursing shoe is designed to be different from other shoes. It is a weightless shoe with a strong grip that holds well on the glossy floor of a hospital. Nurses spend long stretches on their feet. They need shoes to offer both comfort and flexibility. They also need to last the distance so durability is key.
A nursing shoes of your choice
The market is awash with shoes. It pays to take your time, do plenty of research get the best shoes for the demands of your job as a nurse.
Look for the right combination of comfort, support and budget to get a flexible, long-lasting pair of shoes that will feel like you're not wearing any at all.
Some qualities you should consider in a nursing shoes
First of all, you have to consider the flexibility of your shoes. The rigors of your job mean that a stiff, uncomfortable shoe would be a handicap. You need something that will flex as you move.
Lighter shoes are better in this regard. You will be able to work faster because flexible shoes are capable of adjusting and adapting to your feet's movement.
Comfort is paramount with footwear. This issue is doubly important for nurses. If you are caring for others, the last thing you want is unexpected pain from your own feet. After standing long hours and walking around back and forth in the hospital, uncomfy shoes are a curse you need to avoid. Nurse's shoes are designed with comfort uppermost. Look for proper ventilation for your feet.  Watch for the correct fit, wide feet, and stable and cushioned sole to reduce the stress on your feet and you can't go far wrong.
A shoe that is made of high-quality materials is more durable and will last longer. It's worth spending a little in order to save money in the long run. Of course, we all know that genuine leather is still the best raw material for a shoe. Aside from its durability, it's softer and thicker than that many other materials used in shoe making.  However pleasing a shoe might be to the eye, if it's made of low-quality materials, it's still not worth your money, time, and effort.
Nursing shoes come in different brands, styles, and colors. Take full advantage of this wide array of designs to coordinate your shoes with your nursing uniform.
This is actually one of the first qualities that you have to check in choosing a nursing shoe. When buying shoes, you obviously look for a size that fits your feet. Every foot has its own unique shape. Take your time and get some shoes that mesh well with the type of feet you have.
Why do you need the best nursing shoes?
A shoe with the best qualities for the best nursing shoe prizes flexibility, comfortable, durabil,ity and fashion in one winning combo.
As a nurse, you walk around almost every minute checking patients. Make sure the shoes you choose are flexible enough for the demands you will put on them. Avoid hard, brittle footwear at all costs.
How about uncomfortable shoes?
Having a hard and unbreathable shoe is very uncomfortable, right? Moving around will cause pain and the heat inside your shoes. It could also end up giving your feet blisters or other feet injuries. As a nurse, you also stand for a long time. Could you afford to stand for long hours with uncomfortable shoes? Don't take any chances.
How about having a low-quality shoe?
Well, we all know that low-quality shoes aren't durable and won't last long. They might be well-designed and comfortable but if it's made of low-quality materials it will still be susceptible to damage.
Having fashionable shoes is the best feeling.
Just make absolutely certain that you don't put fashion over comfort. Make sure you get the best mix.
Lastly is size and shape.
Many shoes vary in size and shape. Choose the one that best fits your feet. Not too small to force your feet to fit and not too big either.
If one of these components is absent in a particular shoe, then it will not be the best nursing shoe anymore.
Get the choice right the first time and you can take all the pain out of buying your nursing shoes.
Conclusion
All components of the best nursing shoe are essential. Each of those parts has different roles.
Now treat yourself to the best nursing shoes. You deserve it!