This post contains affiliate links. As an Amazon Associate, we earn from qualifying purchases.
Many queries arose about how to replace a Nike shoe insole. Well, you can replace your old insoles now with a simple and inexpensive process.
Some Nike shoe users have worn their shoes with damaged insoles. Good news! You can replace them now with a high-quality one! Not just Nike has made replacement soles for many of its shoes; companies like Dr. Scholl's are also making insole replacements designed for Nike shoes.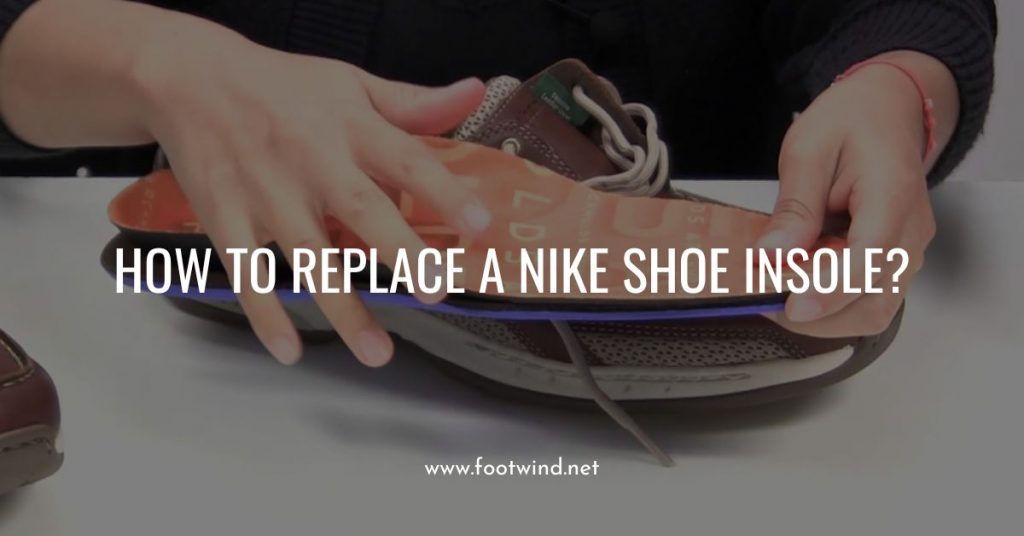 1. Things Needed
Marker
Scissors and,
Replacement Insoles
Choosing your desired insoles all depends on you. The insoles you want depending on the reason for replacement depending on what kind of activities your Nike shoes are used for. Insoles are designed for either light or significant impact activities like walking, court sports, and running. So, choose an insole that is suitable for your needs, if you are prone to more rigid activities insoles for extra arch support which support the ball of your foot are necessary. Remember, you must purchase insoles of the correct size.
It is not necessary to replace old insoles as long as it is still in a good shape. Thus, removing the old insole is not required; only line the new insole on top of the old one. If the shoe feels too tight after putting the new insoles on the top, just remove the old insole and replace it with the new one. Another thing, if the old insole is too loose or is too smelly, the manufacturer recommended that replacing the old insole would be appropriate. The original insoles are glued into the shoes; the best thing to do is pull back the toe end and cautiously peel out the insole.
When new insoles are to be installed, original insoles are required as a template to trim and trace if the new insole doesn't fit quietly. Use scissors to trim and a marker to trace. Just only take off the necessary amount for a comfy fit.
It depends on you if you want to glue your new insoles in your shoes. It is not that necessary, but if you wished to, apply an even coat of bicycle tube repair glue or commonly shoe glue to the bottom part of the insoles. Do not glue the entire insole. Put it in its desired place smoothly down with your hands and apply light pressure.
Replacing a Nike shoe insole is just easy. The new insoles may not be comfortable at first, and the best thing to get used to it is to walk them daily for a week. If they aren't still comfortable, contact your insoles manufacturer.
Always clean your insoles very often by hand-washing them with warm water and soap.
2. How To Clean Nike Shoes
For a favorable result, clean your shoes right immediately after exposure to dirt.
Shoe Cleaning Guidelines
When cleaning your shoe outsole, excess dirt should be the first to be removed by using a soft-bristled brush like an old toothbrush or a better shoe brush.
Use a slightly soapy mixture to clean your shoes. To do it, mix warm water and a desirable amount of laundry detergent and then apply this to the use of the brush to the shoes.
In a sponge, put a small amount of soap mixture and clean the affected areas. If a sponge is not available, a soft cloth or soft brush can be used as an alternative.
If there is excess detergent left on the shoes, put a small amount of warm water into another sponge and apply it to the shoes to wipe away the excess detergent.
Dry the shoes by storing them at room temperature.
Some stains are hard to eliminate. So, to remove persistent stains, repeat the following steps. Others try to clean their shoes by placing them in a washing machine or dryer or using chemical products such as bleach. Nike does not recommend these types of cleaning methods.
Saddle soap is only recommended for a shoe that has leather components for it can soften the leather. So using saddle soap on basketball is not advisable.
3. How to Clean Nike Insole to Reduce Shoe Odor
Take away the insoles from the shoes.
Use the step listed in Shoe Cleaning Guidelines.
Do not put back the insoles on the shoes unless the shoes are air-dried completely.
Replace insoles if these steps do not lessen the shoe odor. Sporting goods and shoe stores have replacement insoles that are available.
There you have it; you already know how to replace a Nike shoe insole along with other important information which will come in handy whenever you may need them.