This post contains affiliate links. As an Amazon Associate, we earn from qualifying purchases.
Jock Itch? We've all been there. It's embarrassing and something you don't want to talk about.
You're probably on your own; and in search of the best creams for jock itch and fortunately, you're on the right track. So read on.
Illnesses can come out of nowhere. Sometimes we panic because we see some abnormal symptoms in our bodies without even knowing why it's happening. That is why it's important to be aware of these different kinds of abnormalities. If we have prior knowledge of them, we can determine their symptoms and know how to calmly deal with them.
One such illness that you might encounter is a jock itch. So in this article, we will tackle what jock itch is and what you can do about it. And more importantly, we will be discussing what the best creams for jock itch are.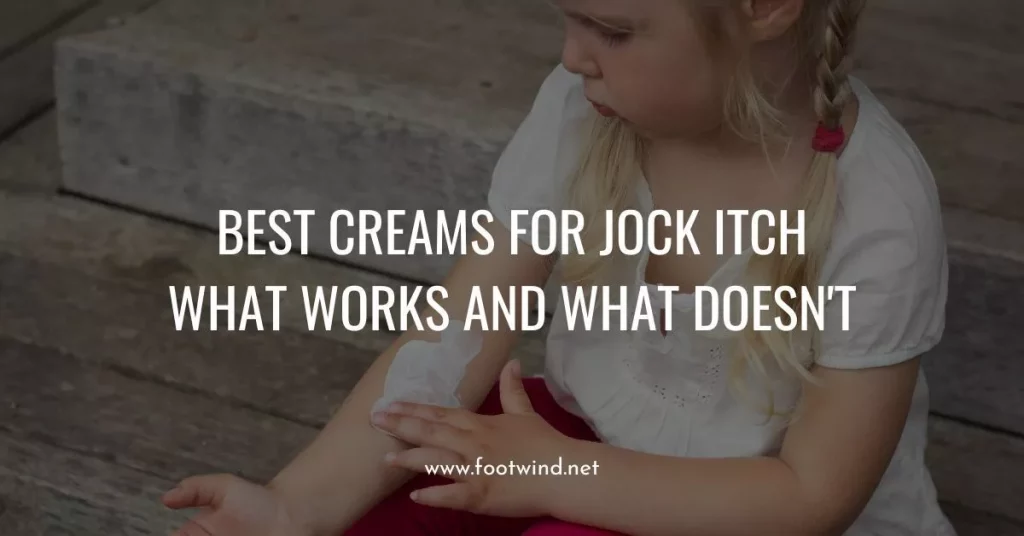 What is Jock Itch?
Jock itch is a fungal infection that affects the skin. It is often characterized by red patches and rashes on the skin. You can usually see its effects on the corner of the lower parts of your body such as your inner thighs, genital area, and even your buttocks. It is somewhat similar to athlete's foot since both are mostly caused by a damp or moist environment in the body due to sweating. They are also most likely caused by a fungal attack. Fungi love these types of environments and can sometimes grow in them. The more likely victims of this disorder are people who sweat a lot, like athletes, and those that are overweight.
Symptoms of Jock Itch
Jock itch symptoms can actually be easy to find early once you are aware of them. If not, however, you may miss these symptoms due to their commonness. Here, we listed some of them below:
Red rashes – this is the easiest to recognize symptom of all. Numerous red patches of skin will appear in some parts of your body. If they are in areas where jock itch usually attacks, chances are that your sickness may very well be jock itch.
Itching – this is also a common symptom. With just this, it is hard to recognize something as jock itch immediately because it is quite common for our body to have multiple itches even in our daily lives. Even if you recognize a red patch on the area where there is an itch, it is still hard to determine it as a jock itch symptom because it is not rare for the skin to get red once you scratch it. However, if you have multiple of these red rashes, and all of them are itchy, then you may actually have contracted this infection.
Pain and other sensations – it may not be only itching that you will feel. Sometimes you can also encounter other symptoms such as pain, burning, and scaling of the skin.
The Best Creams for Jock Itch
The best way to treat jock itch is to simply apply a treatment on the affected areas. There are multiple over-the-counter treatments you can use. These treatments mostly use an active ingredient that is antifungal or antibacterial in nature to deal with the fungi attacking your body.
Alternatively, you can use treatments that rely on natural ingredients to subdue the fungi. Aside from the composition, treatments also come in different types. The most reliable of them all is cream. You can use and apply them to the affected areas.
Creams are generally quite effective, and you can also have easy control as to where you apply them. But even among these creams, there are some that stand out as being even more effective. Here are the best creams for jock itch available in the market:
1. Puriya Wonder Balm – Antifungal Jock Itch Cream
What better way to start a list than the product with the most natural ingredients? This cream does not use any active ingredient. Instead, it uses different natural substances with antibacterial and antifungal properties and mixes them to form a cream that battles jock itch effectively.
Not only does Puriya use natural ingredients, but they also cover their bases. Although jock itch is more than likely caused by fungi, there are cases where it is caused by bacteria instead. Other factors may be considered as well. However, Puriya Wonder Balm covers all of these by not only getting ingredients good against fungi but against bacteria as well. This product also relieves the user of jock itch symptoms such as itching and pain.
Purchase this Product at Amazon.com
Ingredients include lavender oil, tea tree oil, lavender oil, beeswax, raw vitamin C, macadamia nut oil, beeswax and a lot more.
Features and Pros:
Contains 2 oz. of cream per container
All natural alternative
Antifungal and antibacterial; flexible
No active ingredient
Potent
2. Miconazole Nitrate 2% Antifungal Cream
While Puriya offers a natural option for treating jock itch, the Miconazole Nitrate 2% Antifungal Cream is a straightforward product in this regard. As its name implies, it uses an antifungal substance called miconazole nitrate as an active ingredient. This active ingredient is the one responsible for attacking the fungi and other foreign organisms.
What makes the Miconazole Nitrate Cream 2% Antifungal Cream stand out is its potency. This product aims to really cure your jock itch once and for all, rather than simply relieve the user of its symptoms. Miconazole nitrate is actually popular as the active ingredient among similar brands.
Purchase this Product at Amazon.com
However, this product, in particular, uses 2% of the substance, contrary to the others' usual 1%. Hence, you can expect the Miconazole Nitrate Cream to be twice as potent and twice as effective.
Without a doubt, the Miconazole Nitrate 2% Antifungal Cream is one of the best creams for jock itch.
Features and Pros:
Contains 0.5 oz. of cream per tube
Uses miconazole nitrate as the active ingredient
Extremely potent
Cures jock itch well
3. Fine Vine Super Balm Jock Itch Cream
Another natural option for those people who like to keep things fresh is the Fine Vine Super Balm Jock Itch Cream. It is similar to the Puriya Cream in that they both use natural ingredients to combat the fungi. These ingredients come from trusted sources in the United States, so you can expect them to be reliable.
To differentiate from Puriya, this product adds different ingredients to the mix. These include rosehip oil, lavender oil, eucalyptus oil, olive oil, and more, although they are not necessarily unique to Fine Vine alone. This product is also antifungal and antimicrobial, so it is quite effective against jock itch and in relieving the user of its symptoms.
Purchase this Product at Amazon.com
Features and Pros:
Contains 5 oz. of cream per container
All-natural
Unique antimicrobial ingredients
Cures jock itch and its symptoms
Good for dry and cracked skin as well
4. Defense Soap Healing Salve & Defense Oil
Although Puriya Cream and Fine Vine Cream are unique in their own ways, in terms of uniqueness, the Defense Oil and Salve definitely wins it. This is not actually one product but two! The two products of different natures combine to help you get rid of your jock itch.
First, you apply the defense oil to the affected areas. This substance is the one that will fight the fungi in the infection. After that, the healing salve is applied. This two-step process is ideal to do because sometimes, after applying the oil, the dryness of the skin worsens.
Purchase this Product at Amazon.com
Hence, the healing salve comes to the rescue and moisturizes the skin to reverse this effect. Even though without the salve you can still deal with the jock itch, the results may not benefit you after the jock itch is gone. Dry skin is a problem that cannot be neglected.
Features and Pros:
Two specialized products
Cures jock itch
Relieves dry skin
Relieves discomfort
1 oz. of oil and also 1 oz. of salve (cream)
5. Lotrimin Ultra Cream
The last product on this list is the Lotrimin Ultra Cream. It is your typical cream that uses an active ingredient called butenafine hydrochloride. The product contains 1% of this ingredient and is effective against jock itch due to its antifungal nature.
The thing that stands out with the Lotrimin Ultra Cream is its frugal usage need. You need to apply this once daily to the affected areas to be effective. This product prides itself on the fact that it can stick to the skin for a very long time. Not only is it effective, but it is also efficient. This is part of the reason why it deserves its spot in the list of best creams for jock itch.
Purchase this Product at Amazon.com
Not much else is to be said about this cream. It is effective in curing jock itch, and sometimes that is enough.
Features and Pros:
Contains 0.42 oz. per tube
Effective in dealing with jock itch and other fungal infections
Relieves symptoms
Little need to apply it all the time
Lasts for an entire day
Sticks to your skin nicely and does its job
The Best Buying Guide for Products Used to Treat Jock Itch
So you have jock itch, and you are hesitating on what product to use due to how many there is in the market. This article already listed five of them as the best jock itch creams out there. However, even five is already a lot. How do you pick among these five? There are many factors to consider in buying the cream that is effective in your case. We are here to help you pick among the different creams by listing the different aspects of picking cream used to deal with jock itch.
Primary Factors to Consider
Ingredients:
This much is obvious. When we pick a product, it is important to consider its composition. However, for medicines in particular, ingredients can be divided into two – active and inactive. Active ingredients are the ones who act directly against the cause of the illnesses. In this case, the substance with antifungal properties that deal with the fungi is the active ingredient. On the other hand, inactive ingredients are necessary to form the product to its current state.
In order of priority, the active ingredients should definitely come first, and they should be the things to be considered first and foremost. Usually, for antifungal creams, there is only one active ingredient. However, as mentioned earlier, there are natural alternatives that have multiple active ingredients that combine with each other. Whether you want the straightforward ones or the alternative ones is something you might want to think about thoroughly.
Brands
Like in any other industry, brands are something to consider when buying a product. More prominent brands might offer more reliable products. On the other hand, they might also be more expensive. Generic brands do exist in the market, and if you are ever tight on budget, you may want to buy them instead to save some money. Brands may also have unique twists added to their products. A good example would be the Defense Healing Salve and Oil where there are actually two products instead of one. In the end, it's up to you to pick your preferences when it comes to these features.
Secondary Factors
Personal Experience
Well if have you experience with a product, whether positive or negative, then it makes things much easier. If there is a product that worked well for you before then it might be best to buy them again. Otherwise, you can opt not to. Yes, this one should be obvious but it is still worth mentioning.
Ask for Other People's Experiences
If you're still hesitant, this can be your last resort. One thing that seems obvious at first glance but many people often do not do, is to simply ask someone more experienced in the matter. Maybe you know someone who knows more than you do about the products. As long as you trust them, it might be worth listening to their opinions. There are also hundreds or even thousands of reviews online for different products. So if you do not have an experienced acquaintance, reading these reviews or guides might be your best bet. You are reading one right now which is a good sign.
Overall Summary
Jock Itch is nothing serious especially if you know how to deal with them. If you have read the entirety of this article, you would already know the best creams for jock itch. In this case, simply pick one of these products and use them. Surely, any of them will be effective and you will be free of jock itch in no time.