This post contains affiliate links. As an Amazon Associate, we earn from qualifying purchases.
Having flat feet or fallen arches can either be hereditary or developed. Some of those who have flat feet observe no symptoms, but there are still a significant percentage of those who have the condition to experience swelling and exhaustion after a long day's walk. The best way to avoid this is to wear special footwear. The best sandals for flat feet have added support in the midsole area to promote proper arch positioning.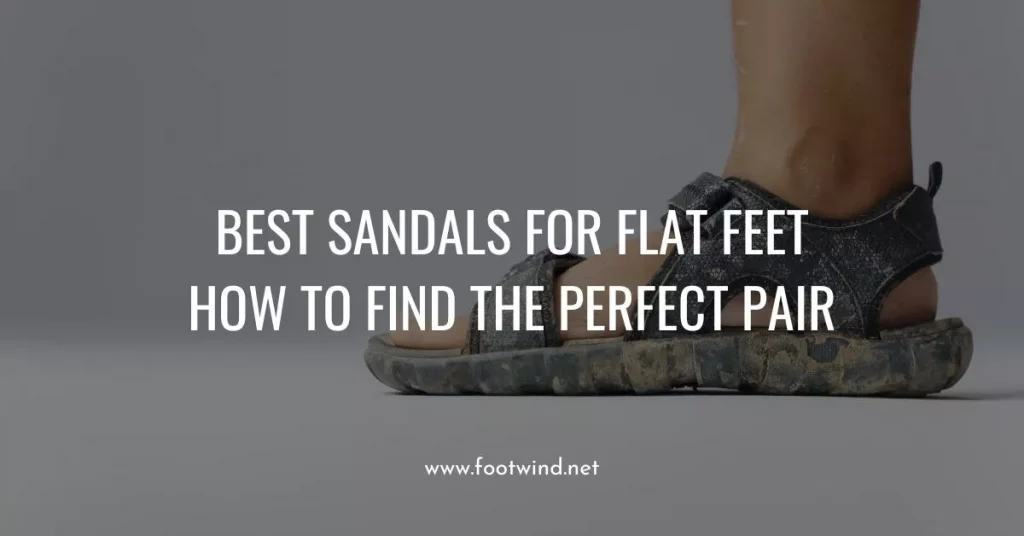 About the Flat Feet Condition
The standard anatomical diagram of a foot is there's a gap between the toes and the heel. The gap is called the arch and is slightly raised off the ground. The arch of a foot is the curve between the tarsal and metatarsal bones in which it acts as a natural shock absorber. The arch is supposed to cushion the stress from the hips down to your foot. Ergo, having flat feet may be troublesome because you are more prone to injuries.
Having flat feet means that the weight is thoroughly distributed to the whole foot, but there's a part that isn't supposed to handle the stress. If you have this condition, the instep is flattened and causes complications and some aching on the calf, leg, hip, back, and knees.
Except for genetic factors, having fallen arches are common for toddlers because they are still developing. Their joints are more flexible, and they would form arches when they get older. However, when we say that flat feet are drawn up in adulthood, it is caused by a number of reasons:
Foot/ankle injury
Rupture of the posterior tibial tendon
Diabetes
Obesity
Pregnancy
Review Of Top 10 Sandals For Flat Feet On The Market
Sandals come in many styles and colors. We have listed some of the best-selling sandals for flat feet as of the date, and they're not only popular due to their inherent qualities. They are also fashionable or perfect for outdoor hikes.
1. KEEN Newport H2 Sandal
At first sight, you might think that the Newport H2 is a pair of trainers. It has an enclosed design, especially at the top part, but there are spaces where air can travel freely. This is obviously a sandal made for heavy-duty outdoor activities.
Despite the wide toe box, the Newport H2 keeps the whole foot from sliding to the front. The manufacturer made sure that the foot will conform and align with the arch support and deepened heel cup while you wear it.
For an outdoor sandal and having flat feet on top of it, stability is the most important factor you want to have. Good thing for KEEN to have their footbed be rigid yet doesn't sacrifice any comfort rightfully for the foot. The outsole has multi-directional tread patterns to facilitate traction and grip in any terrain.
We know from the first look that the most distinctive part of this sandal is its strapping system. KEEN employs a bungee lacing system where you pull up and down a cord to tighten or loosen the foot depending on where you're most comfortable. Moreover, the polyester upper has a water-resistant mesh lining to dry up the sandal when it becomes wet quickly.
As evident from its closed design, there are times when stones or other debris may be caught inside the sandal. Thus, you remove the shoe to drive small things out. Depending on the size of your foot, the Newport H2 may be tricky to wear.
Pros
Quick-drying upper
Wide toe box
Easy strap adjusting
For outdoor hiking
Cons
High cost
It May be tricky to wear on
2. Chaco Men's Zcloud Sport Sandal
Men can find solace through this sports sandal. Its features are perfectly aimed at you if you have fallen arches condition. The design is trendy and matches any outfit.
The upper material is polyester which wraps around the foot and through the midsole. Then, there's extra support in the form of a back strap which is interconnected through the buckle at the heel. The ladder lock buckle is durable and easy through the fabric. The fit is made more secure due to the toe loop at the front.
Getting your foot inside and outside the sandal requires you to loosen or tighten every time. It's not like other sandals where you just slip your foot in.
Flat feet sufferers can find comfort through the Luvseat polyurethane midsole that also has an anti-microbial coating. This inhibits odor-causing bacteria from emitting due to a whole day's work. The footbed is podiatrist-certified and easily conforms to the shape of your foot. Additionally, the heel cup keeps the foot from rolling and moving needlessly.
Pros
Simple design
Anti-microbial attribute
Great arch support
Conforms to any foot shape
Cons
High cost
Needs to adjust the buckle every time
3. Birkenstock Arizona Soft Footbed Sandal
A lot of fellow customers have deeply complimented Arizona for relieving the pain of the feet caused by plantar fasciitis. It corrects the arches through its unique footbed design. And the greatest thing about Arizona is its elegant design. You can even wear it while attending an outdoor party or walking near the beach. There are many upper colors to choose from depending on what you'd like.
Aside from the premium synthetic leather upper which has contributed to the current price of Arizona, the suede-covered footbed with a layer of cork and latex features a unique design for the comfort of your foot. The surrounding edges of the footbed are slightly elevated to protect the foot from accidental striking on hard surfaces. Next is the molded toe bar which naturally guides the toes in their right places. The toe bar similarly encourages blood circulation. Additionally, the deep heel cup helps in distributing the weight evenly to your foot. Of course, last but not least is the arch support which is very friendly for fallen arches.
Arizona's footbed has a foam layer between the cork and suede liner. It has microscopic air bubbles that cushion the foot and have some shock absorption quality. The dual-layer Jute top, furthermore, has moisture-wicking capabilities.
This sandal is hugely forgiving for the flat foot, but you can't find the extra support you need because there's no ankle strap to secure your foot fully.
Birkenstock Arizona is naturally wide. This is ideal for people with flat feet because you'll need more room. But there are still some with smaller bones which may necessitate them to buy a size slightly smaller than their usual.
Pros
Unique footbed design
Fashionable
Moisture wicking sole
With shock absorption
Cons
4. Vionic with Orthaheel Amber Women's Sandal
Amber features a sophisticated design in different color schemes. We strongly agree that every woman wearing this pair will become the envy of others who aren't wearing this yet. At an outdoor party, Amber displays allure and matches any outfit you wear. Amber sandal has a solid color variation as well as snakeskin, crocodile skin, and cork.
Amber has more than looks to show off. The strapping is different than most sandals we have already seen in this list. Three separate straps are sewn to the footbed, but they are interconnected with each other through the perpendicular strap positioned at the front. There are four adjustment points enclosed with Velcro straps. For more coverage and security, Vionic adds a signature heel strap at the back.
The fit of the Amber sandal may feel different compared to other sandals. We recommend that you allow the first few days as the break-in period.
Just like other Vionic sandals, Amber also exploits the Orthaheel Supportive Technology. The footbed itself is crafted by expert podiatrists and has shown tremendous effects in alleviating pain caused by plantar fasciitis, flat feet, and other foot problems. Technically, the flexible EVA midsole absorbs shock and reduces the pressure of the strain points of the foot. The contoured footbed helps in realigning the foot in its natural position.
Pros
Four points of adjustability
Promoted natural foot alignment
Shock absorption
Sophisticated designs
Cons
5. SOLE Sports Flip-flop
You might think that as a flip-flop, this pair can't give you the comfort and support you need. But that's only your impression. Many can attest that this helps in alleviating the pain caused by plantar fasciitis. Footwear specialized in relieving plantar fasciitis must have proper arch support. Thus, in this regard, SOLE can also help those who have flat feet.
The makers of SOLE flip-flops incorporated scientific ideas to make a flip-flop that will support both the heel and arch of the foot. These will then help stabilize one's walking motion and, in turn, assist the foot in a natural position. Additionally, the arch support is adjustable, and the heel cups are deepened to surround the heels safely.
The flip-flop may prove to be hard to break in and may take more time than usual. The nubuck leather upper is tight around the foot and tends to dig into the skin. There's no room for any adjustments as the straps are permanently fixed.
Pros
Adjustable arch support
Contoured footbed
Helps the foot be in natural alignment
Odor control
Cons
Permanently fixed straps
Hard to break-in
6. ECCO Yucatan Sandal
Most people who have flat feet also have wide feet. Thus, Yucatan sandal is one of your best options since it covers a larger area compared to other sandals. You can wear Yucatan be it for quick errands or hours of walking towards your favorite location.
Yucatan is a unisex sandal with a list of sizes for both men and women. The upper material contributes to the expensive price tag of this sandal. But, in return, you reward yourself the most comfortable feeling. The upper is a mixture of nubuck and oiled nubuck premium leathers which have three sewn Velcro straps located at key points of the sandal. They are on the toe strap ankle, and at the back of the heel. Two of these straps are adjustable depending on your desired fit.
But the Velcro strap on the toe area isn't adjustable as the other two. So you may find the toe box loose compared to other parts.
The durability of Yucatan must not be subjected to heavy wear and tear because the sandal is not made for serious outdoor exploration.
On the bright side, this sandal offers tremendous arch support; perfect for those who have flat feet. There is enough support to correct the formation of the foot complemented with a soft footbed that will surely absorb the impact for your foot.
Pros
Premium upper
Comfortable footbed
Elevated arch
Extra support
Cons
High cost
Not for outdoor hikes
Looser toe box
7. Chaco Women's Flip Ecotread Flip Sandal
There are instances when you don't want to fiddle with the straps to wear your footwear. This Flip Ecotread is the perfect example of that instance because you just need to slip it on. Though most podiatrists don't recommend the wearing of flip-flops, you need to see Flip Ecotread in a new light.
This isn't an ordinary flip-flop with a footbed as flat as a board. It can actually relieve pain caused by plantar fasciitis. Its arch support is impressive enough that it can be a comfort to those who have fallen arches.
Just like the previous entry, breaking in the Flip Ecotread may cause some blistering in the first few days. Also, the thong strap is not adjustable.
This sandal is mostly used for outdoor activities. Just like other Chaco sandals, the Flip Ecotread makes use of a Luvseat footbed that has deepened heel cup and elevated arch. The top layer has anti-odor causing bacteria to keep the foot fresh.
Pros
For outdoor activities
Anti-microbial coating
Great arch support
Cons
Hard to break-in
Fixed straps
8. Chaco Women's Z/Volv X2 W Sandal
This is the sandal if you are more of an outdoor type. Having flat feet, you can go back to regular days or embark to long hours of hiking or trekking by wearing this pair. It boasts durability through wear and tear.
The first thing you would notice upon looking at Volv X2 is the distinctive strapping. The jacquard webbing straps are made out of durable polyester that wraps around the foot and through the midsole. It also includes a toe loop to secure your big toe. Furthermore, your footing is secured with the back strap. The whole strapping system is enclosed and adjustable through a buckle.
The footbed of Volv X2 is polyurethane Luvseat. It is 20% lighter than other sandals. Similarly, it has the necessary arch support that is closer to the platform to give assistance to flat feet problems. You can feel all-day comfort while wearing this pair. One more thing to add is the topographic-inspired texture of the footbed. This is on purpose to provide greater traction and grip.
The fit of this sandal runs small. Thus, if you have wide feet, you should consider rounding one size up than your usual size.
Pros
For outdoor trekking
20% lighter
Toe loop for extra security
Great grip and traction
Forgiving arch support
Cons
9. Vionic Gerrit Adjustable Sandal
This sandal is quite good-looking and appeals to a lot of male customers. This is the type you would like to wear while having a quick stroll or when you want to spend many hours exploring outdoors. Gerrit is a good sandal aimed not only at those who have flat feet but also at those who suffer bunions, heel pain, and plantar fasciitis.
The main highlight of Gerrit aside from its elegant design is the supportive Orthaheel insole. It has characteristics that aim to reduce the pressure that is felt by your foot and lower back. The footbed makes the break-in period a little quicker and helps in promoting foot alignment while you're at it.
The support derived from the arch support and heel cup of Gerrit is superb, but it's further reinforced with the strapping that has three points of adjustability. These are found at the toe area, ankle, and at heel. The Velcro straps are easy to adjust and snug close to your foot.
Just like other sandals with Velcro straps, Gerrit is also prone to being loose on the parts where you require them to be secure. Velcro comes loose after a few years.
A good sandal like Gerrit is made to last several hours outdoors with its premium Nubuck leather upper and a rubber outsole with an efficient tread design.
Pros
Orthaheel technology
Quick break-in period
Three points of adjustability
For outdoor trekking
Cons
10. Vionic Men's Boyes Sandal
The Boyes sandal is every athletic man's desire. Not only is it applicable to sports but you can freely use it for any outdoor activity.
Boyes is an adjustable sandal that has three points of adjustability. This system is common among some of the Vionic sandals. Velcro straps are located at the toe, ankle, and heel areas. The straps feature a leather upper with contrast stitching. Of course, there are three colors to choose from depending on your likes.
Just like in Gerrit, Boyes is also prone to being loose on the parts where you require them to be secure. Velcro comes loose after a few years.
Just like most Vionic sandals, this one also uses Orthaheel insole technology. The contoured footbed of Boyes is made of triple-density EVA foam which helps promote proper feel alignment back into the national position. The footbed can absorb shock and has properties in reducing the stress felt on the ankles, feet, knees, and lower back. As for the outsole, Boyes uses Vibram rubber with a wave-patterned tread design. Being an outdoor sandal, this delivers the traction you will need.
Pros
Orthaheel technology
Vibram outsole
Shock absorption
Promotes proper foot alignment
Cons
The velcro strap may come loose
How To Choose Sandals For Flat Feet
If you are not sure if you have fallen arches or pes planus, checking if you have the condition is not difficult. First, dip the whole of your foot in a tub of water and imprint your footprint on a piece of paper. A person with a flat foot condition has the whole of his foot especially the instep imprinted into the paper.
Wearing the right footwear is vital. People with fallen arches tend to pronate when they walk or run. This leads to additional stress to the knees and ankles causing some sort of injury to your feet. Some podiatrists would recommend you to wear orthotic inserts, but you can't use them in open footwear like sandals, right?
Sandals that are going to be your partners should have the following qualities:
Wearing sandals that have arch supports prove to be a lifesaver because it can provide relief to pain later. A part of the footbed particularly where the arch is elevated near the affected area can take off significant pressure from the foot due to the body weight. The flat part of the instep touches this and enforces proper foot alignment. Having arch support also serves as protection from further tendon damage to your arches.
In choosing sandals, choose a pair that conforms close to your arches. You don't want to wear sandals that cater to those who have high arches because you will earn yourself a great amount of discomfort.
The heel cup should be close to the edges of your heel. Of course, the heel cups must be firm to prevent the rolling of the ankle. The fit is important in this regard because stability is highly important to those who have flat feet.
A sandal with added cushion is always welcome because it adds to the comfort underneath your foot.
A good sandal for flat feet must have straps that are around the entirety of the foot for security. Also, it's best that they can be easily adjusted with a few pulls here and there. For people who have flat feet, you can derive extra comfort and security if your buy a pair that has straps going around the ankle.
The material used for the straps must be soft and wouldn't cause blisters or be digging into the skin.
A good sandal for flat feet should have a rigid outsole because you would want to prevent your foot from rolling inwards. Also, a durable outsole is a factor to see if a sandal can last longer through wear and tear.
Conclusion
We hope that we've given you some enlightenment on some of the best sandals for flat feet. There are more out in the market, and we've listed some of the top bests we could come across. With our guidelines on how to identify a good quality sandal, you can effectively widen your pool of selections.