This post contains affiliate links. As an Amazon Associate, we earn from qualifying purchases.
Wearing cheap flip-flops is a major NO if you have plantar fasciitis. More times than not, that kind of footwear doesn't offer any support. Yes, perhaps the best option is to buy closed footwear because it has the necessary qualities to help you endure the pain of your plantar fascia throughout the day. But not on all occasions that you can wear shoes. You can wear open footwear provided that they're specifically designed for your ailment. This is where the best sandals for plantar fasciitis come in to save the day.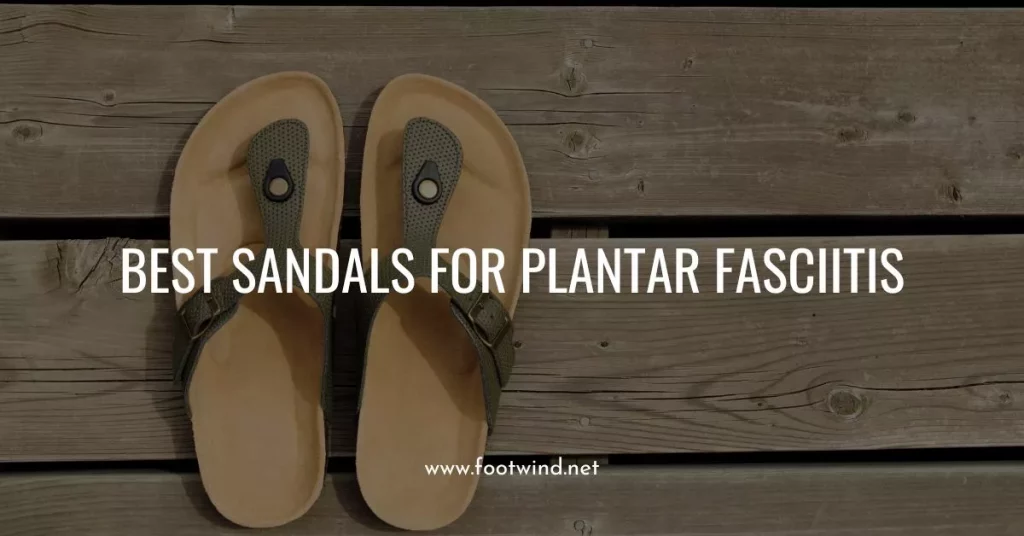 Top 10 Sandals For Plantar Fasciitis
Sandals come in different styles and designs. They also vary wherever you want them to wear. Is it inside your home or for a casual walk? The sandals we feature in this list will duly serve their respective purposes.
1. OOFOS Unisex OOahh Sport Slide Sandal
OOFOS Ooahh sandal has garnered many positive reviews due to its great characteristics. We describe this sandal to be very comforting, especially in the morning when the plantar fasciitis symptoms are at their peak.
First on the list as to why Ooahh sandal is great is its lightness. It has a patented footbed design, and it is topped with Oofoam material. It's very comfortable for the foot, and the cushioning makes the feeling even greater.
The cushioning is a closed-cell foam that helps rejuvenate your feet after a tiring day. The foam is water-resistant which makes it applicable to use in beaches, poolside, or even inside the shower! The Oofoam material is exclusively handled and manufactured by OOFOS and has the ability to absorb about 37% more load than other existing traditional foams. In other words, the Ooahh sandal absorbs impacts effectively.
Aside from the greatness of the cushioning, this sandal provides great support to the arch to many foot types. The arch section of the sandal is firm and dense to make sure that the arch is comfortably in place. Due to its arch support quality, the Ooahh sandal is known not only to plantar fasciitis sufferers but also to those who have flat feet, wide feet, etc.
"Though this is a great sandal, all in all, it might take a bit of time to conform to your foot."
This pair can help you to recover from plantar fasciitis because of the relief that you can derive from wearing it daily. You can experience comfort after your workout or after running for miles.
Pros:
Patented design.
Great cushioning.
Arch support for all foot types.
Water-resistant foam material.
Impact absorber.
Cons:
Takes time to conform fully.
2. KEEN Newport H2 Sandal
KEEN Newport sandal is something you don't want to miss out. It's highly popular among those who have plantar fasciitis. It's also a great option to those who are feeling back pain and have bad knees. This sandal can alleviate one's plantar fasciitis due to its ample arch support.
Newport is well-known, versatile footwear for a variety of applications. Its durable design makes it suitable for many outdoor activities like camping, hiking, etc. You can also walk on different terrains as Newport provides excellent support and grip. Name the terrain you don't want to be in such as muddy or wet, and Newport would graciously offer you the stability you need.
To give further detail on this, the inner footbed has cushioning to keep the foot comfortable as well as metatarsal arch support to cater to different foot types. The midsole of this sandal has shock absorption qualities, and the rubber outsole has a multidirectional tread for traction.
As for the exterior, the upper is made of polyester fabric while the lining has a waterproof mesh. Since it's water-resistant, the sandal doesn't stay wet for long. Moreover, the skin of your foot is protected from pinching thanks to the seamless mesh lining.
One more feature Newport has is the bungee lacing system. This is about the elastic cord that you can pull up or down to wrap around your ankle securely. This will then prevent the rolling of your ankle excessively when you're outdoors.
"This sandal is on the expensive side. It also tends to exhibit foot odor especially if go out hiking more often. But this can be solved by throwing the pair into the washing machine."
This sandal is unisex meaning that you can get sizes for men, women, and even children.
Pros:
Good for outdoor activities.
Water-resistant.
Metatarsal arch support.
Elastic ankle support.
Pros:
Expensive.
Exhibits foot odor.
3. Women's Vionic TIde II Sandals
The brand itself is famous for promoting foot health. Excluding their best-selling sandals, they are a leading brand for orthotic inserts and shoes. As a plantar fasciitis sufferer, you would find a great partner in Orthaheel in regards to arch and heel support.
Podiatrists designed this footwear along with their other orthotic footwear. The biomechanics of Tide Slide is exceptional and works great with your foot form. The shape of the footbed adds to the factor as well as the deep heel cup. These promote proper alignment of the feet.
The midsole has impact absorbing capabilities which significantly reduce the strain that is typically felt on the knees and down. Many can attest that Tide Slide can relieve back pain and knee pain.
"This pair of sandals offer excellent arch support. However, this might be too much for some. If you prefer high arch support, this is the sandal for you. If not, you might feel discomfort."
If you are interested in this sandal, it's best to buy a half-size smaller because the Tide Slide sandal tends to be on the wider side.
Pros:
Rigid stability.
Designed by podiatrists.
Promotes proper foot alignment.
Cons:
High cost.
Too wide.
High arch support.
4. Teva Hurricane XLT Sandal
This might be the sandal you've been looking for in regards to comfort and stability. Hurricane is a rugged outdoor sandal for both men and women. It may look simplistic at first look but dig further, and you'll get what we meant. This is a sandal packed with features you'll like.
Hurricane XLT's exterior features are its lightness (weight of about 1 lb.) and minimalistic design. It has a signature look of having only three points of adjustment, but they don't hinder in times that you need additional security and stability of your foot. The straps are made from soft textile lining to add to your comfort. But one thing to remember is that the footbed conforms the longer you step in it, so it's best that you already lock down or secure your fit before embarking on a journey.
The footbed of Hurricane is pretty nice; providing a nice feel and cushioning to the foot. To give more detail, the cushioning in the heel can absorb impact efficiently reducing the stress on your vital foot parts. Also, the outsole is made of very rigid rubber that supplies great traction to many types of terrain you wish to walk on. Finally, the footbed has Microban zinc-based protection to prevent the odor from transpiring in the foot area.
"Velcro is used to secure the straps. We've noticed that the Velcro comes off after a few years of wearing it."
Pros:
Arch support.
Anti-odor footbed.
Lightweight.
Minimalist design.
Takes a lot of abuse.
Cons:
Velcro may not be secure in a few years.
5. Teva Women's Tirra Athletic Sandal
Tirra is a good sandal to try on if you're more into gender-specific articles of clothing. It's a great solution to keep plantar fasciitis at bay and helps in solving overpronation and promoting proper foot alignment.
Tirra usually gets compliments due to its maximum arch support which doesn't discriminate against any foot type. The cushioned heel cup adds to the amount of support you need whenever you do outdoor activities. We can attest that a lot of people who are not plantar fasciitis sufferers enjoy the comfort they feel when wearing Tirra sandals.
This sandal doesn't take you a long time to get comfortable. There's no break-in period for your foot to do some adapting. Just wear it normally, and you're OK. The straps follow a hook and loop system so that you can fully adjust those when the fit's not right or for additional security.
"The ankle strap, however, has some flaws. Because of the rough material, it tends to dig into the ankle causing some discomfort."
Pros:
Great arch support.
Hook and loop straps.
No break-in period is needed.
Anti-odor footbed.
Cons:
The ankle strap may cause discomfort.
6. Birkenstock Women's Mayari Sandal
Be warned; this sandal comes expensive! If you're not on a tight budget, you might want to consider Birkenstock Mayari. With many colors to choose from, this sandal can match any outfit you decide on that day.
As evident from the price, the upper of Mayari is made from premium leather and made adjustable with the buckle closures. They offer easy on-and-off wear especially if you're in a hurry. Aside from the expensive-looking upper, the footbed is made out of cork that will readily conform to the shape of your foot to add more stability (along with the deepened heel cup) in every step. The raised toe bar aids in providing circulation and natural grip motion of the foot.
It's said that the Birkenstock sandals can last a lifetime because they can be repaired, resoled, and renewed according to their warranty guidelines.
"This sandal runs a little big when it comes to sizing, so we recommend that you try one size below your usual size."
Pros:
Raised toe bar.
Fashionable.
Conforms to the foot.
Premium materials used.
Lasts very long.
Cons:
7. Chaco ZX/2 Yampa Sandal
The ZX/2 Yampa is a unisexual sandal targeted for those who need high arch support. Indeed, aside from the much-needed arch support, you can get all-day stability and comfort when you wear it.
Perhaps the most distinctive feature of the Yampa is its strapping system. Yampa features Addstride technology which is the adjustable pull-through straps that are interconnected. They are woven through the midsole, so once you tug on one part, the other parts instantly follow through. Yampa also provides ankle support and toe hoop for added support to the foot.
Yampa's footbed is designed to accommodate medium to high arches. The webbing design prevents any slips; perfect for wet outdoor activities. The traction the outsole offers is also superb.
The outsole is made from Vibram rubber – 25% is from recycled materials.
"The fit of this sandal may come narrow. You may need to order one size bigger than the usual."
Pros:
Unique strap design.
Use of recycled materials.
Extra support.
For outdoor activities.
Cons:
Not for flat feet.
Narrow footbed.
8. ECCO Yucatan Sandal
Yucatan is an outstanding sandal that doesn't only help those who have plantar fasciitis but also those who have flat feet, narrow heels, heel spurs, ankle pains, and other foot problems.
The sandal has sizes for both men and but it has a hefty price tag. Nevertheless, Yucatan's main focal point is its plush footbed. It's super comfortable and provides a natural stride. The EVA footbed helps in inhibiting odor-causing bacteria.
From the looks of it, Yucatan is clearly an outdoor sandal. So, the resilient outsole made of rubber supplies excellent grip and traction. However, it lacks durability to make it a sandal set for many hours of exploration in many types of terrain.
Yucatan shows off a padded strap design that has three Velcro attachments. These are located on the toes, ankle, and heel. Two of them are adjustable. The front strap, however, isn't adjustable so might find some loose parts near the toe box area.
Pros:
Comfortable footbed.
Anti-odor mechanism.
Great traction.
Metatarsal arch support.
Cons:
High cost.
Non-adjustable front Velcro strap.
9. Skechers Women's Reggae-Rasta Thong Sandal
Reggae-Rasta is great for women who like to trek on sand or who like to walk at the park in some fashion. It's an anti-plantar fasciitis sandal because of the tremendous arch support and the deepened heel cup.
The sandal is breathable thanks to the perforated footbed that has little holes to allow airflow. The front area has toe support that massages your toe. Moreover, the footbed is slightly bent upward to secure your toes so that they won't slip.
The upper features a combination of leather and textile while the inside has a fabric lining that is soft to the skin. The strap design is a hook and eye mechanism so to give you leeway for quick adjustments.
"The sandals may prove a challenge to those who have wide, large feet. Particularly at the toe loop where the adjustment is permanently fixed."
Pros:
Breathable footbed.
Soft upper.
Great arch support.
Available in many color schemes.
Cons:
Not for women who have wide feet.
10. Spenco Yumi
Another sandal for both men and women is the Yumi by Spenco. There are a whole wide variety of colors to choose from, so there's no problem in you picking what suits you best. Spenco has done a great job in providing fashion-friendly sandals because you can match them with any casual outfit you like.
Yumi is an orthotic sandal that is designed by experts to keep the pain away through its cushioning and medium arch support. The latter is more focused on correcting the foot alignment. Aside from easing the pain caused by plantar fasciitis, Yumi is lightweight which adds to the comfort felt by its wearers.
The focus on Yumi is on its EVA footbed that is compression-molded for total foot support. It includes a deepened heel cup for stability and a metatarsal arch support. The EVA material doesn't wear out quickly so you can enjoy wearing this sandal far longer than others. Not only has the footbed added to the long-lasting quality but also the straps.
"Though this may discourage you, Spenco Yumi offers little support for those who have high arches."
Pros:
Good arch support.
Lightweight.
For casual wear.
Style varies.
Cons:
About The Foot Condition
Plantar fasciitis is a foot condition that gives you pain at your heel and arch. It's called plantar fasciitis because of the plantar fascia, the tissue band that connects your heel to the toes, stretches and inflames when it is strained from your heavy activities. Not all people feel the same pain wavelength, so some can feel intense pain after they've rested a long while and some others would feel pain but less so.
Most podiatrists recommend that you don't wear slippers that are as flat as a board or you will worsen your condition. In fact, they strongly advise that you don't walk barefoot. This is because of the fact that the ligament will continue to stretch giving you unnecessary discomfort. That so, those slippers that give you pain whenever you wear them would have to go.
Tips For Buying Sandals For Plantar Fasciitis
As it is understandable already, you need to buy footwear that would give ample support to your feet. The shoes for plantar fasciitis are designed to keep the plantar fasciitis away while wearing them on. Aside from intermittent pain on the arch and heel, the unsupportive sandals or flip-flops can cause bone spurs and ankle pain. Moreover, they can cause you to walk awkwardly.
To know more about the sandals for plantar fasciitis, we have made short descriptions as to what makes them amazing:
A good pair of sandals reinforces its wearer's arches. This is the most vital quality a sandal for this particular foot condition should have. After all, this is where the plantar fascia is located at. The arch support you can derive from the sandals can shield the plantar fascia from further stretching. Thus, making you less susceptible to feeling pain.
In this regard, the size of the arch support may vary in different types of sandals. Pick whatever size you would be best comfortable.
Running shoes have ankle support to keep the foot from moving excessively. Flip-flops or sandals, on the other hand, don't offer ankle support. So when buying sandals, go for a pair that has deep heel cups. These would keep the heels from rolling which, in turn, may flatten the arches (i.e. stretching of the plantar fascia) and would subject you to feeling discomfort.
Along with good arch support, these two qualities keep the foot in alignment and also reduce the burden of the load on the Achilles tendon. You are then secured and stable in every step.
Sandals for plantar fasciitis must have a wide toe-box to transfer as much strain from the heel and arch to the forefoot. Meanwhile, the toe box should just bend a little because you don't want great toe extension on your sandals.
For you to help overcome your plantar fasciitis, the footwear that you must always use should have good padding. Because those who plantar fasciitis are most probably on their feet for several hours at a time, the feet must be kept comfortable with a soft yet rigid cushioning.
Getting the right fit is the most important when you have plantar fasciitis. The footbed must be well-matched with the length of your foot. If it's too short, the sandal would be less stable. If you go for too long, the foot would not be well-aligned, and it would roll in, causing you greater worry.
Good sandals for plantar fasciitis come from trustworthy brands that promote foot health.
Conclusion
We've committed several hours of research to deliver you the top ten best sandals for plantar fasciitis. It's now up to you to trust our picks, or you will do additional diligent research. With our thorough guide, you can quickly identify a pair of sandals not on our above-mentioned list.