This post contains affiliate links. As an Amazon Associate, we earn from qualifying purchases.
As a runner, it is important to protect your feet with socks. It's downright uncomfortable to go running with the wrong shoes or even no socks, right? Following this rationality, it's not only the shoes that you should select wisely to perfectly enhance your athletic performance and prevent you from injuries. Indeed, choosing the best athletic socks for running is also a great investment.
Why Wear Socks When Doing Athletic Activities?
Wearing socks has its own benefits. It is considered as a secondary piece of clothing for a runner or an athlete. One of those basic benefits is that socks keep your feet from sliding around in your shoes and at the same time avoid blisters. Additionally, it also inhibits fungal infections or unpleasant odors. The benefits of wearing socks are mostly valued by athletes who are prone to sweating.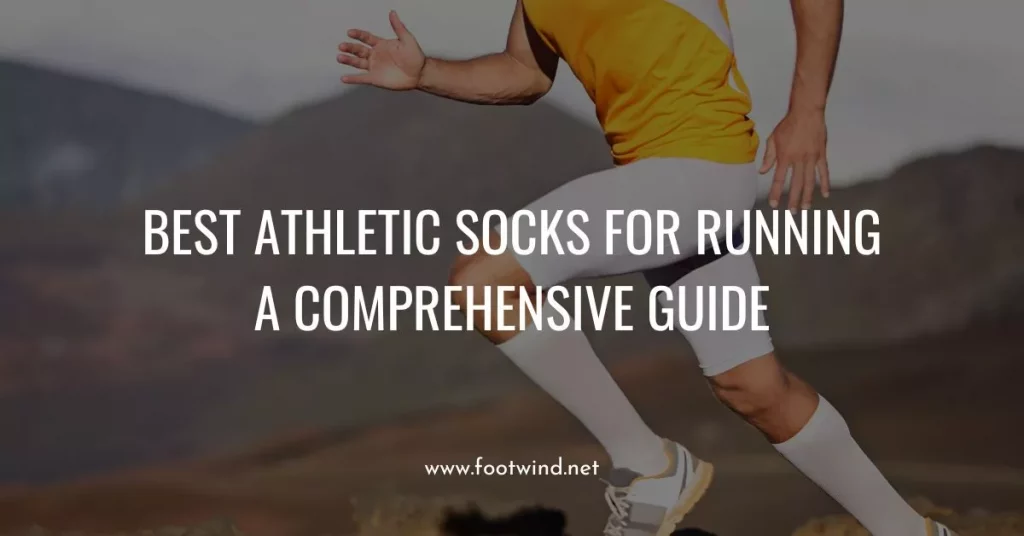 Best Athletic Socks For Running Review
Choosing socks isn't an easy feat. There are a whole lot of guidelines one needs to follow before you can actually buy one. Don't just settle on the appearance and the cushioning. Consider other factors like material and moisture management. The following socks in this list are gathered under the keywords of "best athletic socks for running." We suggest that you check these ten before you look for other brands.
1. Feetures High Performance Ultra Light Quarter Running Socks
Feetures! is one of those brands that you can rely on despite having a low budget. In fact, it's a good sock for any athletic activities, especially running.
The Feetures! High Performance Ultra-Light socks are made of 55% polyester, 40% nylon, and 5% Spandex. These materials ensure that the wicking attributes are kept at a maximum to keep your feet cool. Because of the wicking, the sweat readily surfaces at the exterior and evaporates. This pair of socks also features a mesh construction to provide ventilation to when doing intense activities.
Furthermore, being an ultra-light sock, this one is made super thin to keep your feet dry even in the most extreme weather. The thin construction also ensures that the sock will never be bulky while you wear the pair. Its Y-heel construction prevents the sock from sliding inside the shoe.
The colors available for this pair of socks are either white or black. Try a pair and recognize the comfort and lightness the Feetures! can provide.
PROS
Super breathable
Thin construction
No slipping
Snugs to the foot
Anti-blisters
Good wicking capabilities
Low cost
CONS
Purchase this Socks at Amazon.com
2. Nike Elite DRI-FIT Running Socks
Nike is a famous shoemaker worldwide. Though more know in selling sports shoes, they also provide other accessories for the feet. In fact, their DRI-FIT running sock is made to be durable for your running activities. Pairing this pair of socks with your Nike shoes would definitely be a good idea.
Nike Elite is made of 59% polyester, 38% nylon, and 3% spandex. The DRI-FIT technology from its product name means the use of polyester as the major fabric. As you know, polyester has good wicking capabilities. The sweat coming from the foot are wicked or transferred on the top surface. The ventilated mesh design allows the breathability of the feet to stay cool and dry.
Nike Elite also supports the arch of the athlete. With its plush padding on the necessary areas, there is lower friction on the forefoot, toes, and heel. Thus, there are lesser abrasions.
PROS
Super breathable
Soft fabric padding
Arch support
Low cost
CONS
Mediocre wicking capabilities
Not interchangeable
Purchase this Socks at Amazon.com
3. Balega Hidden Comfort Socks
Balega is a trusted brand used by runners. This one, in particular, is described to be ultra-lightweight. Its affordability is another reason why most runners use this.
A pair of Balega socks is so comfortable to wear for the top of the sock is very thin which makes it breathable. Though, the bottom part of the sock has thick padding. Some socks have inconsistent padding at the bottom of the foot. However, this Hidden Comfort has even padding for extra comfort.
This sock is composed of 84% polyester, 14% nylon, and 2% elastane. Being a synthetic sock, its durability is superb.
However, its downside is that because of its material, it's not as good as other natural fibers when it comes to wicking sweat from the bottom to the top surface of the sock.
PROS
Low cost
Super comfortable
Super breathable
Uniform padding
CONS
Prone to slipping
Mediocre wicking capability
Purchase this Socks at Amazon.com
4. Saucony Performance Sock
Saucony Performance is one of those few pairs of socks that are both extremely affordable and extremely comfortable. You can hardly buy a pair of this product, it's always at 6 pairs and priced only below 15 U.S. Dollars.
Saucony Performance is the apt pair of socks that runners use. Being made of 95% polyester, 3% rubber, and 2% spandex, this pair's durability is unrivaled. The top actually features air mesh venting to maximize airflow flowing inside the foot. This mesh construction keeps the feet dry and cool. Furthermore, the RunDry Moisture Management Saucony utilizes is about superior moisture transport or also called superior wicking capabilities.
Aside from those, this sock has cushioning abilities. Take for example its cushioned sole that helps in absorbing shock. These soles protect the feet from impacts due to intense running. Saucony Performance also provides arch support for stability and balance. This arch compression prevents the sock from slipping inside the shoe area.
PROS
Super breathable
With arch support
With shock absorption capability
Anti-slip property
Super low cost
CONS
Mediocre wicking capability
Purchase this Socks at Amazon.com
5. Meaiguo Toe Socks Cotton Running Five Finger Crew Socks
As its name suggests, a toe sock is different from a traditional sock. Its appearance can prevent blistering as there is ample fabric to surround each toe.
This pair of socks is made of 80% cotton, 17% polyester, and 3% Spandex. A toe sock can give better moisture management as the separate toes don't rub with each other. Furthermore, the fabric can easily absorb the sweat instead of it traveling. Another advantage of a toe sock is it also prevents foot ailments because it increases blood circulation around one foot.
Meaiguo Toe Socks are made of cotton which is comfortable to the feet. Cotton is also lightweight and doesn't make your feet feel bulky when you're wearing one. A runner should avoid 100% cotton but not those that have other components. So, there's no reason why you shouldn't buy such affordable and comfortable socks like Meaguio.
PROS
Lightweight
Durable
Breathable
Thin construction
Low cost
CONS
Purchase this Socks at Amazon.com
6. Darn Tough Merino Wool Athletic Socks
Darn Tough is a sock that mainly consists of Merino wool (51%). As known already, Merino wool is one of the top natural fibers for its wicking capabilities. Other components are nylon (45%) and Lycra (4%). The wool is from Vermont in the USAwhere the sheep have adapted to the rapid changes in weather with their wool.
Darn Tough has a seamless construction to provide a good fit to the foot. Its construction prevents and protects the foot from blisters, bunching, and slipping. In fact, the construction also supports the toes, arch, and heel.
One of its main advantages is its soft and cushiony feel which, in turn, are the main attributes of Merino wool. The other synthetic fibers like nylon and Lycra help in shaping the sock. They also provide a snug feel to the foot aside from durability.
Indeed, with Darn Tough you can replace the socks with its unconditional lifetime guarantee. Of course, they're willing to replace the socks if ever you do something wrong with them. Though this happens rarely!
PROS
Medium cost
Anti-microbial
Ultra breathable
Superior wicking capabilities
Extra padding
Lifetime warranty
CONS
Purchase this Socks at Amazon.com
7. Injinji Run Lightweight Crew Toe Socks
Another toe sock in this list is brought to you by Injinji. These socks are made for and used by athletes and runners.
This Injinji Lightweight Crew pair of socks are constructed with CoolMax fabric, meaning this sock is ideal for all running conditions. Furthermore, this sock is manufactured by the blending of 28% CoolMax, 67% nylon and 5 % Lycra. Because of this fabric content, the sock does an excellent job in preventing slips while inside the shoe because of fabric's high volume and loose weaving.
It constitutes 200-needle count to make an ultra-thin sock like Injinji. This also reinforced the overall durability of the material. Moreover, the top of the sock has a mesh construction for ultimate breathability and ventilation. Injinji also provides arch support with its supportive band. This band provides a secure and stable fit at the underside of your foot.
Of course, Injinji is good for moisture management being specially made for runners and athletes. The toe socks have wicking capabilities to further cool and comfort your feet when doing activities that induce sweat. Pros
PROS
Prevents blister
Promotes proper toe alignment
Anti-slip
Medium cost
CONS
Purchase this Socks at Amazon.com
8. Gold Toe Cushioned Cotton Crew Socks
The Gold Toe is a known brand for over 80 years now. It got its name with its socks that have golden toes. This was in the past as most Gold Toe socks today are of varying colors and most of them don't have the knit-in gold toe anymore. Instead of the gold, it's more like yellow in color. The product included in this list is one of the classics of Gold Toe. Its appearance is all white except for the gold at the toe part of the sock.
This Gold Toe Cushioned Cotton is made of 78% cotton, 11% polyester, 9% nylon, and 2% Spandex. Indeed, the Gold Toe socks are made from high-quality yarns that are reinforced at the toe part. The toe part of the sock is prone to holing as it rubs with the nails so Gold Toe's durability is unquestioned in this department. The seams of the socks are flattened so that they don't appear and feel bulky when inside the shoes. Furthermore, the heel part of the socks is made rounder to cup the heels. These allow for a more comfortable fit.
As for the materials, the cotton used is, of course, soft and comfortable. Most of all, the polyester and the nylon shaped the sock to be what it is now. It also has wicking capabilities.
PROS
Snugs to the foot
Durable
Ultimate comfort
Breathable
True to size
Low cost
CONS
Purchase this Socks at Amazon.com
9. Wrightsock CoolMesh II Quarter Socks
One of the running socks you ought to try is the WrightSockCoolMesh II. This is not only affordable but also providesmaximum moisture transfer which prevents you from having foot blisters.
CoolMesh II uses a two-layer construction. The inner layer is composed of Dri-Wright II polyester, nylon, and Lycra which all have superior wicking abilities that transfer the sweat they come in contact with the outer layer. The outer layer is also made of the same three materials but with the addition of mesh weave. From the inside, the moisture travels to the outside and evaporates. The mesh's purpose is to maintain moisture control and airflow. The interaction between the two layers prevents blisters from forming because they can absorb friction and shearing forces.
All in all, the percentage composition of the materials used are as follows: 70% polyester, 27% nylon, and 3% Lycra.
PROS
Snugs to foot
Comfortable
Good wicking capability
CONS
Purchase this Socks at Amazon.com
10. Smartwool PhD Run Ultra-Light Mini Socks
This is one of the specialized socks that was improved and made more advanced thanks to the latest tech. It features a unique 200-needle construction which gives the highest knit density for enhanced durability.
This Smartwool PhD sock is made of 48% Merino wool, 47% nylon, and 5% elastane. It uses 4 Degree Elite Fit System where two elastics are used for stretching and recovery. Thus, the Smartwool socks won't stretch in the long run. Furthermore, it also uses Indestructawool Technology. This is about the patent-pending method of construction which gives exceptional durability and comfort.
Other features include the mesh venting for proper moisture management as well as ultra-light cushioning throughout the sock for maximum performance.
PROS
Snugs to the foot
Durable
Ultra-lightweight
Seamless construction
CONS
High cost
Prone to slipping
Purchase this Socks at Amazon.com
How To Choose The Best Athletic Socks For Running
Did you know that the best athletic socks for running do not only prevent the formation of blisters and microbial infections? They can also lessen unnecessary movements and protect your feet from impact and strain.
Moisture Management
Moisture is one of the common foot problems but this can be avoided efficiently with socks that can wick moisture. The method is explained through the inner layer of a sock absorbing the sweat and moves it to the outer layer or by "wicking" sweat to the surface to facilitate evaporation.
Material
Socks are made of many materials and are divided between natural and synthetic. The following are the different types of materials for athletic socks:
Wool is obtained from a sheep that is made to produce a textile fiber. Merino wool is an effective absorbent. It can absorb up to 30% of its weight in moisture and keeps you dry. It is dirt and odor resistant too. Moreover, it is durable and long lasting.
Olefin fiber is also used in athletic socks for running. Olefin is known for excellent water and staining resistance and its wicking capabilities.
Cotton fabric can absorb large amounts of water and triggers the feet to emit heat which is bad for sports. This is where blisters and fungus appears. So, runners should avoid 100% cotton socks.
Nylon is an artificial fabric that is very light to use. Nylon has long durability and resistance making it as well fit socks that undergo lots of stretching and pulling. However, it greatly absorbs amount of water.
It is a type of fiber made from silver that is further knitted into socks. X-static prevents microbial infection and odor.
Just like nylon, this one is a cheap and artificial fabric that can resist tear and wear. Polyester socks compared to nylon absorb a little less water which makes the feet breathe better.
Support Or Thickness
Socks are generally described in variations of support called cushioning. Some terms are ultra-light, light, light cushioning, full cushioning, medium weight, etc. These specifically explain to you how much padding is located underneath the foot. Extra cushioning in socks offers compression for the foot and leg minimizing foot pain.
Padding is necessary for protection and cushioning on the heel and ball of the foot. It differs depending on the amount of material woven in those areas.
Sock Height
This depends on your preference or the application. But for a runner, cut rests far below the ankle socks are not advisable to wear because dirt would catch inside. Instead, a mini crew sock that has a cut just above the ankle bone is highly preferred for running because it protects the skin of your ankles.
Fit
A fit pair of socks greatly impacts your feet condition while doing an activity therefore how you choose the fitness of your sock is very important. The best tip is to choose a fit that is something in between.
Conclusion
Choosing the right socks for running comes next after you have purchased a pair of running shoes. Of course, the right pair should belong to the best athletic socks for running so that you can derive comfort and stay dry when you need it most. By reading this article, you now have the gist as to the qualities that you should look for when you want to further widen your selection pool!