This post contains affiliate links. As an Amazon Associate, we earn from qualifying purchases.
When the leaves begin to change and the temperature drops, we tend to switch out our wardrobes…
We exchange our tank tops for long sleeves and our shorts for jeans. We put away the sandals and pull out the boots. We layer on the scarves and the hats and the jackets…
But have you ever considered switching out your socks when the seasons change?
In today's best wool socks reviews, we'll show you some great footwear for when the mercury starts falling.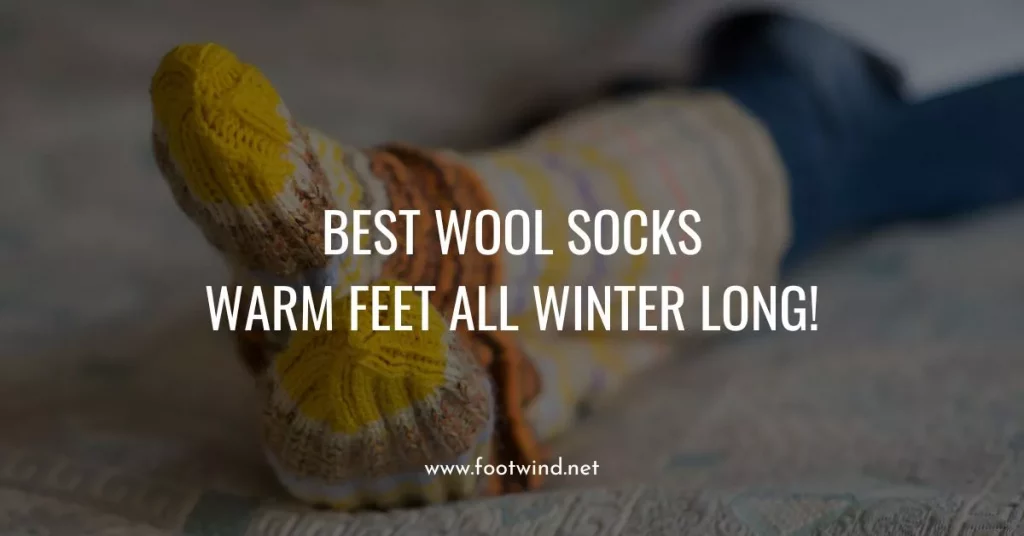 Why Choose The Best Wool Socks?
Most people simply don't give it a second thought. Socks are socks, after all. What difference does it make?
Well, when the weather turns cold and wet, your generic cotton athletic socks are no longer going to do you any good as we're sure you've noticed.
When cotton gets wet, it loses any insulating properties it has so you may as well be barefoot.
Not to mention, have you ever had to layer on multiple pairs of socks inside your snow boots just to keep your toes from becoming frostbitten? Perhaps have you worn cotton socks only to be plagued with damp, sweaty and cold feet inside your boots?
The answer may be in switching out your socks for the cooler weather as well as your shoes.
What if we told you that there are socks available that are great at keeping your feet warm (even if they get wet!), will keep your feet dry and are antibacterial and odor-resistant into the bargain?
Well there are plenty of these socks available and they are made of wool.
But wait! Why should you buy special socks just for cooler weather?
You don't have to!
Most people who know of the magical properties of socks made with wool mistakenly think that these socks should only be worn in the wintertime but these people are wrong.
Wool socks can be just as beneficial in the warmer months of spring and summer, too.
Why Wool?
Wool has many benefits over cotton, and should really be a staple in your sock drawer no matter what season it is.
Benefits Of Wool
Wool is a natural temperature regulator. It is well known that wearing woolen socks in the winter is a good idea because they will help your feet to stay warm on even the coldest of days. The thing is, wool can also be a good choice when it is warm. Because of its seemingly magical powers of temperature control, socks made with wool are excellent at helping your feet to stay cool as well.
Wool is also an excellent moisture wicking fabric. Wool can quickly soak up all your excess sweat no matter the outside temperature and hold that moisture away from your skin. Wool can soak up and hold onto a third of its weight in moisture before it begins to feel like it's wet.
Even though it soaks up all that moisture, wool dries incredibly quickly.
Another great bonus to wool is that it's naturally antibacterial. What this means is that even though it soaks up all of that sweat and moisture, the fibers in the wool have properties that prevent it from becoming a breeding ground for bacteria. When the bacteria have no place to grow, they can't give off the stink associated with foot odor.
Downsides To Wool
It may seem like there is no bad news with woo, but there are a few simple things you need to be aware of before following the woolen route…
Wool can sometimes be itchy. This is especially true if you opt for socks that have been made with lower-quality wool. There are many socks made with Merino wool and they won't be itchy at all. They will probably be a bit more expensive but to avoid itchy feet, you might feel that's a price worth paying.
Most wool socks cannot be washed in a washing machine or dried in a dryer. It's advisable to hand wash them and lay them flat to dry. This can be extremely inconvenient, especially if you are used to just throwing your cotton socks in the washer. Some textile manufacturers use blends that will allow the socks to be machine laundered though, so be sure to check your labels to know what care your socks require.
Top 10 Wool Socks In The Market
All of that aside, there are some fantastic wool socks available on the market.
With all these choices, it can be hard to choose what socks are right for you so we have taken all the guesswork out of it for you.
Below you will find our curated list of the 10 best wool socks reviews.
1. Terramar Merino Crew Socks
Terramar crafts their socks with a blend of fibers to include 63% Merino wool, 33% nylon, 2% polyester and 2% spandex.
Because these socks have been made with the natural fibers of Merino wool, they are virtually itch-free. The wool fiber is adept at quickly wicking away moisture leaving your feet dry and comfortable as well as smelling fresh.
The socks have been manufactured with a cushioned sole to ensure your feet are comfortable and the toe seam is smooth so that you don't get any of that painful rubbing and chafing that comes from traditionally sewn toe seams.
These socks will arrive on your doorstep in a package containing 2 pairs of socks in either black or heather gray.
Purchase these Product at Amazon.com
2. Sox Shop Merino Casual Socks
One of the softest, most comfortable socks available on the market is brought to you by Sox Shop in the form of these Merino casual socks.
These socks are expertly crafted with a blend of 96% Merino wool and 4% nylon.
Even though they contain no elastic, these socks promise to stay where they belong on your legs while being nonbinding. No cut-off circulation here!
Lycra 3D enables these socks to have exceptional comfort, superior durability and snugly fitting, all without sagging at the ankles.
During the knitting process, these socks receive an additional antimicrobial treatment. This just adds to the natural antimicrobial properties already possessed by Merino wool.
These socks are also exceptionally breathable, durable and resistant to wrinkles.
A classic casual everyday wool sock that is still suitable for dressing up for work, or just wearing around the house on the weekend, you won't be disappointed.
Available in a variety of colors such as black, dark blue, green and oatmeal, these socks will ship to you in a package of 3 pairs.
Purchase these Product at Amazon.com
3. People Socks Merino Antimicrobial Socks
With their eye fixed on being a more affordable option for quality Merino wool products, People Socks is working hard to deliver on their satisfaction guaranteed promise.
These socks have been knit in the United States with a blend of 71% Merino wool, 21% nylon, 7% polyester and 1% spandex. They contain extra cushioning throughout to ensure your comfort and a reinforced heel and toe for durability. These are some of the best wool socks on the market and they are sure to keep your feet happy.
The socks have been fashioned in a crew cut and will come midway up your calves. They'll stay put thanks to their elasticated cuffs.
The Merino wool in these socks will ensure that your feet are kept sufficiently warm or cool depending on the season. They will keep your feet dry from sweat or the elements and the antimicrobial properties of Merino wool will ensure your feet stay bacteria and odor-free.
You will be able to choose from brown, black, navy or gray for your colors and the socks come in a package containing 4 pairs of socks.
Purchase these Product at Amazon.com
4. SmartWool PhD Run Light Low Cut Socks
With a lower profile than most other socks on our list, these SmartWool PhD socks are meant more for the athletes among us, especially anyone who likes to run.
These socks contain a blend of 21% Merino wool, 46% nylon and 3% elastane. They are knit in the United States.
Made with extra targeted cushioning on the ball and the heel of the foot, these socks will provide maximum protection against the jarring impact runners face.
For enhanced breathability and moisture control, the PhD socks have been made with special mesh ventilation zones throughout.
The toe of the sock is virtually seamless allowing runners to avoid the painful rubbing and blisters that generally come from wearing socks.
Though they are well cushioned, these socks are very lightweight and the Merino wool allows for better moisture wicking and odor resistance.
When you purchase these socks, you will receive a package containing 1 pair and will be able to choose from an assortment of colors like black, green, white, blue and gray.
Purchase these Product at Amazon.com
5. Darn Tough Merino Crew Socks
Made with the finest Merino wool and a blend of other fibers (40% Merino wool, 56% nylon and 4% lycra spandex), you will be highly impressed with these crew socks from Darn Tough.
These socks have been knit in a way that ensures they are truly seamless for maximum comfort for your feet. This method allows for a smooth performance fit. This means that your socks won't slip, won't bunch up and will not give you blisters.
With a cushioned heel and toe, theses socks have comfortable padding right where you need it. This extra padding does not add to the bulkiness of the socks however and they are still very lightweight and comfortable inside your shoes.
Because they are made with Merino wool, these socks are excellent at wicking away sweat and moisture and they are antimicrobial to ice the cake. This ensures that your feet stay dry and that no bacteria can grow on them. Great for healthy, non-stinky toes!
There is not a lot in the way of color options for these socks. You can choose from charcoal/lime, orange/oatmeal or smoke/cranberry. You will receive a package containing a single pair of socks.
Purchase these Product at Amazon.com
6. Wigwam Classic Wool Athletic Socks
These are your classic crew-cut athletic socks that you likely wore in high school gym class.
Made with a blend of 70% wool and 30% nylon, these are about as basic as wool socks are going to get but don't let that fool you. Wigwam has worked hard to ensure you get a top-quality product.
These socks contain no elastic but they will stay up on your legs where you need them to be. They will not fall and bunch around your ankles or slip uncomfortably into your shoes while you are wearing them.
Though they are advertised as athletic socks, there is no reason these cannot be your everyday go-to casual socks.
Because these are some of the most basic (but still some of the best wool socks there are), you won't find a whole lot of choice when it comes to color. You can choose from white or black, and you will receive one pair of socks in your order.
Purchase these Product at Amazon.com
7. Carhartt Stretch Steel Toe Socks
Carhartt is well known for outdoor gear, especially for people who work outdoors in construction or farming. It makes sense then that they would manufacture superior wool socks for their customers.
Made in the United States, these socks have been knit with a blend of 56% wool, 19% acrylic, 14% nylon, 8% polyester, 2% spandex and 1% lycra. This blend ensures comfort and durability.
The socks have a comfort stretch top which conforms to the shape of the leg while preventing the socks from falling into the shoe, pooling at the ankle, pinching the leg or uncomfortably binding the feet.
FastDry technology quickly wicks away the sweat and helps the sock to dry so that your feet can stay dry and comfortable.
With a compression arch and stabilizers at the ankle, these socks give support where needed and will stay in place.
You will be purchasing them by the single pair and you'll be able to choose between brown, gray and moss colored socks.
Purchase these Product at Amazon.com
8. Simcan Unisex Casual Wool Socks
Billed as a favorite casual sock for men and women, these Simcan socks are one of the best wool socks you can buy.
These socks are made in Canada using a blend of 56% Merino wool, 35% cotton, 6% nylon and 2% spandex.
The socks are a longer length, coming to mid-calf. They provide fantastic stretch while being ultra-soft and sag-free.
Depending on the season, the wool fibers of these socks will provide warmth or help to keep your feet cool, and they will always quickly wick away excess moisture.
The unique construction ad superior fibers used by Simcan won't bind or sag which is great for circulation and comfort.
These are a great choice for athletic or causal wear as they will easily fit into any shoe and provide all day comfort.
Available in black, blue, off-white, charcoal and brown, you will receive one pair of socks.
Purchase these Product at Amazon.com
9. CloudLine Merino Wool Compression Socks
Some people need a little extra oomph in their socks whatever the reason may be.
If you are one of those people, these are the socks for you.
CloudLine brings us these moderate compression socks made with a blend of 56% Merino wool, 29% nylon and 15% spandex. These socks come up over the calf in our longest offering yet.
These socks are CloudLine's Ultralight offering. They are great for people who love running, hiking, biking, walking or for those who spend long days on their feet. Wherever your active feet take you, these compression socks will aid with rapid recovery.
The socks have been made with reinforced heel and toe areas as well as extra cushioning throughout allowing them to sustain your activity while keeping you comfortable and ensuring that they last a long time, too.
The ultra-fine Merino wool fibers make the socks very soft but the socks still possess all the qualities of traditional wool socks. The socks are still antimicrobial, quick to wick away moisture, ultra-breathable, warm in the winter and cool in the summer while also very quick drying.
You will get one pair of socks. All of the socks are light gray with an accent color and you can choose from light blue, bright blue, bright green or dark gray.
Purchase these Product at Amazon.com
10. Gold Toe Windsor Wool Crew Socks
Rather than the Merino wool that has been prevalent in these best wool socks reviews, these Gold Toe socks are made with a blend of 50% Windsor wool, 45% nylon and 1% spandex.
These socks are absorbent and have excellent moisture management. Having been made with the FreshTex antimicrobial treatment, these socks are also highly resistant to odors.
Reinforced at the heel and the toe, theses socks will last longer and be more comfortable. The seams of the socks are flattened to allow for premium comfort and to ensure the socks fit well in shoes. The top of the socks has a small amount of spandex in it to keep them in place on your legs.
Gold Toe's Windsor wool socks are made in a crew length and are midweight. This allows for you to comfortably wear them year-round.
You will receive a package containing 3 pairs of socks and can choose from black, charcoal, navy or brown.
Purchase these Product at Amazon.com
Wrap-Up
No matter the season or the activity, wool socks are a fantastic choice for your needs.
Durable, comfortable, moisture wicking, and good at regulating the temperature of your feet, there really is no reason to not give wool socks a try.
After reading our list of the best wool socks reviews, we hope you have found plenty of useful information and unearthed some great choices for keeping your feet toasty and healthy.
If your feet are happy, you are happy.
Come back soon for more foot-related reviews and please contact us any time with your questions or feedback. We're always more than happy to help!