This post contains affiliate links. As an Amazon Associate, we earn from qualifying purchases.
Unless you live somewhere tropical, live a really casual life, work with an extremely laid-back boss, and never do anything particularly formal, chances are you wear socks on an almost daily basis.
Socks may seem to be purely functional, a form of practicality that just is what it is. Eaten by the dryer, thrown away as soon as a small hole appears, balled up and thrown haphazardly into our drawers… socks are seemingly unimportant.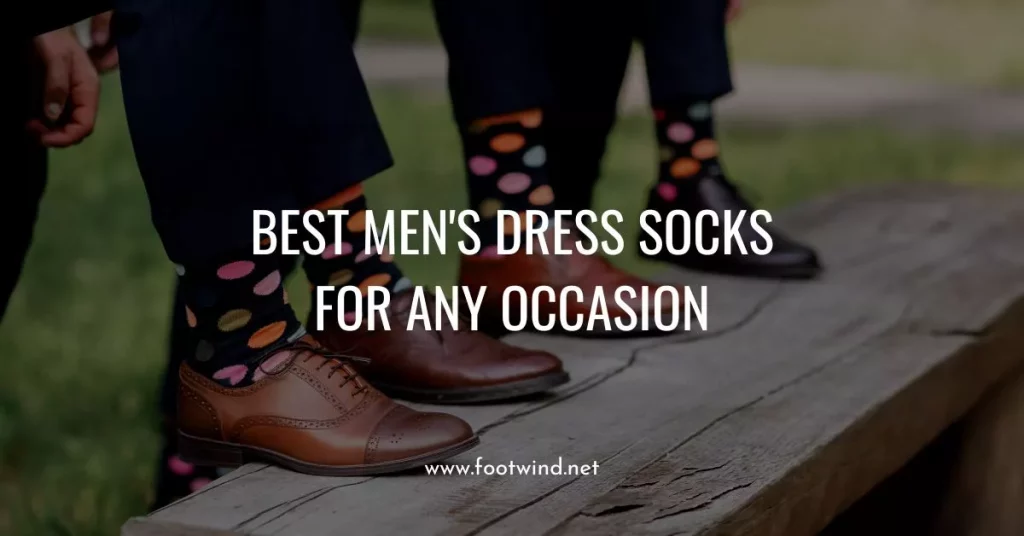 While socks may appear to be a completely mundane part of our lives, they actually serve an important purpose and are quite useful. Before our best men's dress socks reviews, here are just a handful of reasons we ought to wear socks:
Socks were originally invented to keep our feet warm as we wandered the earth as nomads. To begin with, socks were made from animal skins that were wrapped around a person's foot and gathered and tied at their ankles
Each day, our shoes can be filled with nearly half a pint of sweat from our feet. Our socks help to soak up this moisture and wick it away from our feet and also keep the sweat from soaking into our shoes. This helps to preserve the longevity of our shoes, helps to lessen the odor that can be produced by our sweat, and helps our feet stay healthy and dry
Socks help to alleviate the painful rubbing and chafing we sometimes get when our shoes rub against our feet. Wearing socks helps to ensure we don't get painful blisters and they help to make us more comfortable as we go about our day.
Now that we know the purpose of wearing socks, how do we go about choosing socks to wear?
Surely, we don't want to always pop into our local department store and grab a package of whatever is cheapest, right?
Different occasions call for different types of socks but, with so many available to choose from, how do you know what's best?
Having sifted through plenty of information about men's socks, this article will provide you with a range of options to help you choose the men's dress socks.
Best Dress Socks For Men Reviews
It doesn't matter if you are trying to look nice for a fancy dinner, aiming to ace that interview or ensuring you dress properly for an event, sometimes you just need a good solid colored sock.
Trouble is, so many men's dress socks tend to wear out after just a few washes. The socks loosen up and droop down your ankle, leaving you looking sloppy instead of putting them together.
Not to mention, how do you decide which kind to wear – ankle, mid-calf, knee-length?
And How Do You Know Which Color To Wear?
Generally, a mid-calf or knee-length sock will be best with trousers. You'll want to avoid an ankle sock when aiming to look slick and more formal.
As for color, you can usually get away with matching your sock to the shoe color which tends to be black. Another option is matching your socks to the color of your pants, meaning navy socks with navy pants, charcoal gray socks with gray pants, tan socks with khaki pants, and so on.
There are also many materials to consider when choosing a men's dress sock. Silk, wool, and cotton blend are a few common fabrics used.
Choose what is most comfortable to you and is good at wicking away moisture.
We'll break down our men's dress socks reviews into 4 main categories for your convenience:
Cotton Dress Socks
Wool Dress Socks
Silk Dress Socks
No Show Dress Socks
Cotton Dress Socks
1. Boardroom Men's Over the Calf Dress Socks
When choosing a dress sock, an over-the-calf option is generally best as it will stay up better.
With over 175 years in the textile industry, the Boardroom company knows what they are doing when it comes to creating an awesome dress sock for men.
These Boardroom Men's Over the Calf Dress Socks have been fashioned from Peruvian Pima cotton. This Peruvian cotton creates a soft, comfortable yet still durable dress sock.
The materials in this sock are a blend of 74% Pima cotton, 23% nylon, and 3% spandex. Having spandex will help to ensure that your socks stay where they belong rather than pooling at your ankles 10 minutes into the workday.
These cotton-blend dress socks will keep your feet cool in the summer but will provide excellent warmth during cooler months as well.
Made with a reinforced heel and toe, these socks are sure to last the distance. They come in a variety of plain solid colors (black, gray, navy, and khaki) and will fit most men's feet.
The Boardroom socks come in a pack of three and include multiple color options.
Purchase this Socks at Amazon.com
2. American Casual Men's Cotton Dress Socks
These cotton dress socks brought to you by American Casual might be just what you're looking for.
They are manufactured with a blend of materials (82% cotton, 14% nylon, 4%lycra) to give you a comfortable, breathable sock that will stretch a bit to fit you well and will last on and on.
These socks are mid-calf length, which is what a lot of men prefer to wear. The socks are also ribbed instead of solid.
The package contains 10 pairs of black socks to make your morning easier. No digging through the basket of laundry you neglected to fold, frantically trying to find matching socks. These socks are all black and they all match. Just grab two, put them on, and be on your way!
These socks fit a multitude of shoe sizes, ranging from a men's 8 to a men's 13.
When purchasing this option, you will receive a package of 10.
The casual men's cotton dress socks brought to you by American Casual are a great everyday choice and are suitable for dressing up as well.
Purchase this Socks at Amazon.com
3. Gold Toe Men's Assorted Crew Socks
Gold Toe is a brand name with plenty of heritage in the world of men's socks and for good reason. The Gold Toe company has been manufacturing socks since 1934. They are able to boast 80+ years of happy customers and they're still going strong.
The socks that are sold by Gold Toe are some of the highest quality you will find and these men's assorted crew socks are no exception.
Created with a blend of 80% cotton, 13% nylon and 2% spandex, these men's dress socks are sure to be a winner. They will be comfortable, well fitted and durable.
This specific package will also be quite stylish as it contains a variety of styles to choose from. If you are looking for a solid sock, a patterned sock, or even a classic argyle sock, this package has you covered. It contains five pairs of socks to choose from – one for each day of the workweek.
These crew socks are great for wearing with your suit to work on Monday or dressing up your jeans on Saturday's date night.
These crew socks will fit shoe sizes 9-13 and will keep your feet comfortable all day long.
You will get a pack containing 5 pairs of socks.
Purchase this Socks at Amazon.com
4. Marino Men's Fun Dress Socks
There are times when you might want to stray from the usual black, gray, navy and tan dress socks for something with a little more personality while still retaining the look and feel of a good dress sock.
For those times, Marino Men's Fun Dress Socks are where it's at!
Made with patterns like stripes, checks, polka dots, and traditional (but more fun!) argyle, these socks are made to be noticed. With fun, funky patterns these men's dress socks are sure to be a conversation starter. These socks are colorful and interesting while still maintaining the appearance of the fancy socks necessary in the business world.
Manufactured with a blend of 80% cotton, 10% polyester and 10% spandex, they are durable, well made and comfortable. These Marino Men's Fun Dress Socks are also moisture wicking and extremely breathable. This means that while you are having fun, your feet will be as well since they won't be sweltering in sweat and stinking up your shoes.
These fun socks are made to fit men with shoe sizes 10-15.
You'll get a generous 12 pack of socks.
Wool Dress Socks
Wool is a classic choice of fabric for socks. It is one of the original fibers used to create socks and it has stood the test of time for good reason.
Wool has the unique ability to keep feet toasty and warm during the colder months of the year yet still keep feet cool during the hottest months of the year. Socks made with wool are also very good at being moisture absorbent, meaning when your feet sweat, the sweat stays on the sock and not your foot.
It is not easy to find pure wool socks these days as most are manufactured with a blend of other fabrics. This process makes them lighter on the wallet while enhancing their durability, and strength and helps them to reduce rubbing.
Below we have cultivated some great options for the best men's dress socks made from wool.
Purchase this Socks at Amazon.com
5. Smartwool Men's Socks
These "City Slicker" socks, as they are aptly named by Smartwool are a good option when choosing a dress sock made of wool.
These Smartwool socks have been knit in the USA with the finest Merino wool and woven with a couple of other materials to increase their comfort and durability. The material breakdown for these socks is 77% Merino wool, 21% nylon and 2% elastane.
These socks are crew length which is ideal for many men.
These Smartwool socks are a fantastic choice for allowing your feet to breathe while keeping them warm (or cool!). They also resist odors and wick away moisture.
These wool socks can be purchased in light gray, dark gray, black or dark brown. They are available in single pairs.
Purchase this Socks at Amazon.com
6. Duckmole Men's Crew Socks
These wool dress socks are brought to you by Duckmole. These socks are different from others on our list so far because they are ankle length rather than mid-calf or over the calf length.
These socks are extremely soft, thick and luxurious. Should you live in a cold area, these wool socks from Duckmole are bound to keep your feet nice and warm even on the coldest of days. You might expect them to be thick and uncomfortable in order to keep your feet so warm but customers say they are lightweight and incredibly comfortable.
Made with a blend of 75% wool, 20% acrylic, 4% stretch nylon and 1% Lycra, these socks are made for comfort and durability. The stretch nylon will help to keep them in place so you don't wind up with slouchy socks around your ankles.
These Duckmole socks come in the usual array of men's dress sock solid colors as well as plaid, dotted argyle and a traditional argyle pattern.
When purchasing these socks, you will get 5 pairs in the pack. Comfortable, stylish and affordable!
Purchase this Socks at Amazon.com
7. Gold Toe Windsor Wool Dress Socks
Here we find another option from the very well-known Gold Toe company.
These are a premium wool blend socks made with 50% wool, 45% nylon and 1% spandex. These socks have been reinforced at the heel and the toe to ensure longevity. The fabric blend is excellent at wicking away moisture in warm weather while at the same time providing warmth in cool weather.
Gold Toe's Windsor Wool sock is made with a Fresh Tex antimicrobial material treatment as well which will greatly reduce any odor the socks may absorb while wicking moisture away from your feet.
The Gold Toe Windsor Wool Dress Socks are offered in the traditional array of dress sock color options: navy, gray, brown and black. These socks are knit in a ribbed fashion which many men prefer. They will fit men's feet from sizes 6 to 13.
These socks are available for purchase in packs of 3 pairs at variable prices depending on the size and color options.
Silk Dress Socks
Silk dress socks are not as commonly worn because they are crafted with a far more luxurious fabric. This means they simply do not possess the longevity of socks made with other fibers and they are far more expensive that other types of socks.
That being said, many men prefer to wear silk socks when dressing up for more formal affairs such as black tie events and weddings.
You must take care when wearing silk socks as they can be fragile. Often, you will find silk blended with wool to increase the warmth the socks can provide or the silk might be blended with other synthetic fabrics in an attempt to increase the durability of the socks.
There is not a lot of variety amongst silk socks but below we have gathered a few choices for you to look through.
Purchase this Socks at Amazon.com
8. Albert Kreuz Luxury business Socks
These premium silk socks are made in Germany with the finest Italian mulberry silk.
These socks have been created with 98% mulberry silk and 2% Micro Lycra spandex. The spandex lets the sock stretch at the top of the tube allowing the sock to stay snugly where it belongs on your leg.
Silk is naturally hypoallergenic and soft. These socks are thin, which allows your feet to breathe and regulate their temperature well. These socks come in a mid-calf length and are only available in black.
These are available as a single pair of premium silk socks.
Purchase this Socks at Amazon.com
9. Sept Filles Crew Socks
These lightweight crew length socks are brought to you by Sept Filles.
Manufactured with a blend of 90% silky polyester and 10% spandex and Lycra, these are not truly a silk sock. However, they are very much made to feel and look like silk.
These socks are lightweight, breathable, moisture wicking, and odor eliminating. They come in a variety of colors. You can choose from white, light blue, black, gray and navy blue.
These are some of the best dress socks for smaller feet, too. These socks are good for shoe sizes 6-9.
In the package, you will receive 7 pairs of socks at prices according to the colors you choose.
No Show Dress Socks For Men
One final option as we near the end of our best men's dress socks reviews…
Some men prefer to go without socks or at least seem like they are not wearing socks while still having the benefits of actually wearing them.
If this is you and the temperature and event allow for it, choose a pair of no-show dress socks.
Purchase this Socks at Amazon.com
10. Saliva No Show Liner
These cotton no-show shoe liners from Galiva are comfortable, lightweight and great to wear with loafers or Oxfords.
They are made with 80% cotton, 15% spandex and 5% elastic. The opening of the sock is elastic which allows the sock to easily slip onto your foot but also snugly stay in place.
If that isn't enough, there's also a rubber grip on the heel of the stock to assist it even further in staying where it belongs.
You can choose from black, brown, nude, navy, white and gray. The no show liners will comfortably fit shoe sizes from 6 to 15.
You will receive a handy 3 pack of liners.
Purchase this Socks at Amazon.com
Wrap-Up
Whatever your fabric, length, or color preference, there is an array of fantastic choices available when it comes to dress socks. There's simply no need to settle for a cheap pack at the retail store anymore.
We hope you find something here that will work for you and keep your feet happy!
Feel free to get in touch if you've got any queries or feedback at all. Come back soon. We are always producing new content to make your life easier.